Nashville, Tenn. — The only swapping taking place on the opening day of baseball's winter meetings was of stories about inactivity.
General managers wandered between lobbies at the vast Opryland Hotel asking each other if anything was going on. As of early Friday night, not a single trade had been made.
"Montreal is stagnating things because they have so many players that might be attractive," New York Yankees general manager Brian Cashman said.
The Expos, owned by the other 29 teams, have been told their payroll can't accommodate all the players on their roster. General manager Omar Minaya was surrounded by reporters and cameramen as soon as he entered the lobby.
"It's early in the process right now," Minaya said Friday night. "The objective is to be able to trim payroll. If there's a trade that I think makes sense, I'm going to make that trade."
Minaya met with executives from Arizona, Atlanta, the New York Mets, Philadelphia and St. Louis, and planned late-night meetings with the Boston Red Sox and New York Yankees.
He said some teams were aggressive in their pursuit.
"I want to listen to as many clubs as possible and have as many options as possible. There is not a specific date," Minaya said. "We may not speak to 29 teams. We may wind up speaking to 15 teams or 20 teams."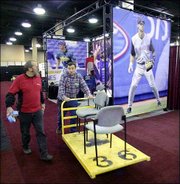 Among Minaya's players are outfielder Vladimir Guerrero, pitchers Bartolo Colon, Javier Vazquez, second baseman Jose Vidro, shortstop Orlando Cabrera, third baseman Fernando Tatis and catcher Michael Barrett.
"I hope to be able to do something here, but I don't feel I have to do something here," Minaya said. "I don't have to get down to payroll by Tuesday. I have to get down to payroll by opening day."
The free-agent market, which has driven many winter meetings in recent years, slowed to a near standstill.
"It's early still," said New York Mets general manager Steve Phillips, who was searching for a third baseman and talking to the agents for reliever Mike Stanton. "It's been a slow-developing market at this point in the offseason."
Teams have taken a more aggressive approach to non-stars eligible for arbitration, threatening to not offer contracts by the Dec. 20 deadline. The threat of putting more free agents on the market has also slowed trade talks and free-agent signings, according to team executives and agents.
Copyright 2018 The Associated Press. All rights reserved. This material may not be published, broadcast, rewritten or redistributed. We strive to uphold our values for every story published.