Washington — President Bush, rejecting protests from supply-side conservatives, named Wall Street investment banker Stephen Friedman on Thursday to head his National Economic Council, completing the top selections for his revamped economic team.
Friedman, 64, will replace Lawrence Lindsey, who was ousted along with Treasury Secretary Paul O'Neill last week when Bush decided he needed a stronger team to deal with the lackluster economy and sell Congress on a new round of tax cuts.
Friedman headed the giant Wall Street investment bank of Goldman Sachs from 1990 to 1994. Bush praised him as an "innovative economic thinker" who would help the administration promote a new "growth and jobs package" to Congress.
While Bush's choice of railroad executive John W. Snow as his nominee for Treasury secretary had elicited widespread praise, his pick of Friedman stirred strong opposition among conservative Republicans.
Bush selected Friedman last week, but his appointment was delayed because of questions about his health and to give White House lawyers time to review his huge investment portfolio. Conservatives used the delay to try to get Bush to reconsider.
Supply siders, who came to prominence with Ronald Reagan in the early 1980s, believe that tax cuts can lead to more government revenue by spurring increased economic activity.
Seeking to allay conservative concerns, Friedman said during a brief White House announcement ceremony that he was committed to pushing a new stimulus package expected to total as much as $300 billion in new tax cuts during the next decade.
"I strongly share your conviction, sir, that now is the time for a robust growth and jobs policy," Friedman told Bush.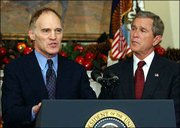 Conservatives had a mixed reaction to Bush's decision to go ahead with the Friedman appointment.
Tom Giovanetti, president of the Institute for Policy Innovation of Dallas, a research group that advocates lower taxes, called Friedman a "disappointing choice."
"The White House spin is that Mr. Friedman is not there to set policy but to sell it," Giovanetti said. "But we have to question how well someone can sell something that they don't believe in."
Giovanetti said Friedman's long support for the Concord Coalition, a bipartisan group formed for the late Democratic Sen. Paul Tsongas and former Republican Sen. Warren Rudman, was troubling because of the group's strong advocacy of balanced budgets.
But Grover Norquist, president of the conservative Americans for Tax Reform, said he expected Friedman to be a loyal advocate for tax cuts now that he is in the administration.
"The president's position is extremely clear on his tax policies, and no one particular adviser or staffer is going to alter the direction the president and the administration are heading," Norquist said.
Bush's biggest economic achievement since taking office was congressional passage last year of a $1.35 trillion, 10-year tax cut, which Democrats blame for bringing back large budget deficits.
Copyright 2018 The Associated Press. All rights reserved. This material may not be published, broadcast, rewritten or redistributed. We strive to uphold our values for every story published.