Nashville, Tenn. — Steve McNair's worst performance of the season is driving the Tennessee Titans quarterback to some of his best football.
McNair was intercepted three times in a 13-12 loss to Baltimore on Nov. 24, the Titans' only loss in their last eight games. Since then, he has been nearly flawless in leading the Titans (8-5) to consecutive victories that have them in control of the AFC South.
In the back-to-back wins, McNair went 49-for-66 for 571 yards and four touchdowns with no interceptions. McNair also has scrambled nine times for 87 yards.
McNair said his poor play against the Ravens may stick with him through the rest of the season.
Next up for the Titans is a game against the New England Patriots (8-5) on Monday.
"Quarterbacks need to have amnesia in this league. You need to forget the mistakes as well as the successes, and be able to move on regardless of what happens," he said.
McNair, the No. 3 draft pick overall in 1995, has been slowed by injuries in his eight-year career, and he now finds himself overshadowed by the play of mobile quarterbacks like Philadelphia's Donovan McNabb and Atlanta's Michael Vick.
But McNair needs only 12 yards passing and 76 yards rushing to become the fifth quarterback in NFL history to throw for more than 18,000 yards and rush for more than 3,000 yards. That feat has been accomplished by Fran Tarkenton, John Elway, Randall Cunningham and Steve Young.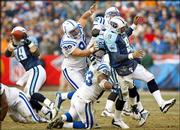 New York Giants defensive end Michael Strahan said he was thankful that McNair isn't running as much as in the past. McNair ran only four times for 38 yards in a 32-29 overtime victory over New York on Dec. 1, not counting a draw for a tying two-point conversion.
Indianapolis rookie Dwight Freeney has chased both Vick and McNabb, and he thinks muscle makes the difference.
"Just trying to get him down is tough because he is a very strong man. They (McNabb, Vick) will shake you and run around you, and you can't catch them. However, McNair has both speed and strength," Freeney said.
Copyright 2018 The Associated Press. All rights reserved. This material may not be published, broadcast, rewritten or redistributed. We strive to uphold our values for every story published.