State officials say there are signs they're winning the war against underage smoking.
It's more difficult for youngsters to buy cigarettes, they say, because a Kansas crackdown on retailers is working.
But teenagers smoking cigarettes Tuesday at Veterans Park said if that was the case, they couldn't tell. They have no trouble getting smokes.
"Some people smoke less because it's healthier. Me? I'm aware it makes me less healthy, but I smoke because I like it," said Lisa Roberts, a junior at Lawrence High School.
Several teens said they easily were able to purchase cigarettes despite being under 18, the minimum age to legally buy them.
Despite that, state officials said Kansas has dramatically reduced the availability of cigarettes to minors.
As part of its enforcement efforts, the Kansas Department of Revenue the past few years has hired teens aged between 15 and 17 to go into stores to try to buy cigarettes.
In fiscal year 1996, the teens were able to purchase cigarettes 64 percent of the time they went on the stings. By fiscal 2001, that had dropped to 21 percent.
That percentage ranks Kansas in about the middle of all states.
Lisa Kaspar, a spokeswoman for the Kansas Department of Revenue, said the "controlled" buys of cigarettes were serious business because a dip in compliance could jeopardize some of the $17 million the state receives in federal funds for use in substance abuse treatment and prevention programs.
They can be a big deal for retailers, too. A store caught selling cigarettes to an underage customer is fined $250, and the clerk making the sale also can be fined, Kaspar said.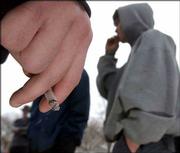 Statewide, about 26 percent of high school students smoke cigarettes, which is slightly less than the national average, according to the Campaign for Tobacco-free Kids. State studies also have indicated about 12 percent of sixth- through eighth-graders use tobacco products, most often cigarettes.
At Veterans Park, 19th and Louisiana streets, youths at the popular smoking hangout had different ideas about smoking.
Roberts guessed that between 25 percent to 30 percent of LHS students smoked.
Willie Beckus, a junior at LHS, said he didn't smoke because cigarettes "are evil," - not because somebody or some program told him not to.
"If there's a program that's trying to get kids to stop smoking, I haven't noticed it," he said.
Jake Sloan, a junior at Lawrence's Alternative High School, doesn't smoke but understands why others do.
"Kids like to rebel," he said. "You're not supposed to smoke, so they smoke."
Erica Goddard, a junior at the Alternative High School, says she smokes between five cigarettes and a pack a day. She's not noticed much of a decline among her friends.
"Lots of people still smoke," she said.
Copyright 2018 The Lawrence Journal-World. All rights reserved. This material may not be published, broadcast, rewritten or redistributed. We strive to uphold our values for every story published.