New York — Pete Rose might finally be getting his second chance.
Baseball's career hits leader could know by the end of the year if baseball will agree to end his lifetime ban - which would make him eligible for the Hall of Fame.
Rose and commissioner Bud Selig met secretly in Milwaukee on Nov. 25 and their lawyers have been exchanging proposals that could end the ban, a baseball executive said Tuesday on the condition he not be identified.
A 17-time All-Star and former National League MVP, Rose agreed to the lifetime ban in August 1989 following an investigation of his gambling but has maintained he never bet on baseball. None of the 14 men previously banned for life by the commissioner's office was ever reinstated.
"It's a first hopeful sign," said Cincinnati Mayor Charlie Luken, who wrote twice to Selig last month urging reinstatement.
Baseball wants Rose to admit misdeeds - that he bet on baseball - as part of any agreement ending the ban, the executive said. Rose cannot appear on the ballot for the Hall of Fame as long as he is on the permanently ineligible list.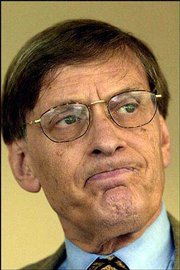 Selig did not return a telephone call seeking comment and Bob DuPuy, Selig's top aide and baseball's chief operating officer, issued a statement that did not confirm or deny the meeting.
Rose's lawyers, S. Gary Spicer and Roger Makley, did not comment.
ESPN.com and WXIX-TV in Cincinnati reported Monday night that Selig and Rose had met two weeks ago, and WXIX said Hall of Famer Mike Schmidt was at the meeting.
Joe Morgan, a Hall of Fame second baseman who was Rose's teammate on the Big Red Machine teams of the 1970s, has pushed for Selig and Rose to compromise, the executive said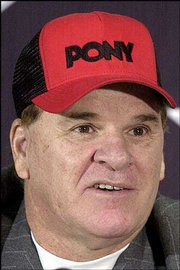 Morgan spoke about the situation at the World Series, after Rose was given the longest ovation among the stars who appeared in a promotion before Game 4. Morgan said he detected increasing support for allowing Rose into the Hall of Fame.
"But it all starts with Pete," Morgan had said. "He's got to come clean. I'm sure he liked hearing the fans cheering for him. But that ovation isn't going to get him into the Hall of Fame. He's got to make it right. It's up to him."
The executive said Selig wanted a resolution "sooner rather than later." Rose recently approached a person involved in baseball's investigation and said, "Give me a second chance," another baseball executive said, also on the condition of anonymity.
Copyright 2018 The Associated Press. All rights reserved. This material may not be published, broadcast, rewritten or redistributed. We strive to uphold our values for every story published.