Hartford, Conn. — Charles Dickens and Rod Serling had nothing to do with it, but Connecticut acted as if each had a hand in scripting the game.
The ninth-ranked Huskies made seven straight three-pointers in the second half Tuesday night to rally from a 25-point deficit and beat Massachusetts 59-48, matching its biggest comeback under coach Jim Calhoun.
"It was a tale of two games," Calhoun said. "In the first half we were comatose."
Center Emeka Okafor, held to four points, 15 below his average, had a different take.
"We were in the 'Twilight Zone,' " he said. "I don't know what we were doing, but we weren't playing Connecticut basketball."
UConn (6-0) wasn't running much offense in the first half. Stymied by the Minutemen's triangle-and-one defense, a combination zone and man, the Huskies managed just nine points on 4-for-26 shooting (15 percent) and trailed 30-9 at the break.
"We couldn't get any break going and then (UMass) would wind the clock down to 10 seconds," Calhoun said. "We became deflated."
UMass (1-5) took advantage of the absence of UConn's leading rebounder, Okafor, who was in foul trouble early in the game, and outscored the Huskies 20-4 in the paint in the first half.
"You couldn't have told me before that game in a million years that was going to happen," UMass coach Steve Lappas said. "It was just one of those halves for them. But like great teams, I know one thing, if we can hold them to nine, they can hold us to nine in a half, too."
The last time UMass held an opponent to under 10 points in a half was in 1958 against Trinity, which scored eight.
On Tuesday night, Jackie Rogers had 10 of his 12 points in the first half. He opened the game with three quick baskets, staking UMass to a 6-2 lead.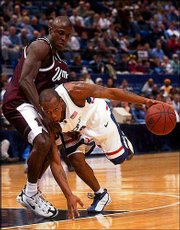 UConn's turnaround in the second half was a quick one. After falling behind 34-9 inside the first two minutes of the second half, on baskets by Micah Brand and Rogers, the Huskies hit six three-pointers in the first 10 minutes - getting two apiece from Gordon and freshmen Denham Brown and Rashad Anderson.
The Huskies also stepped up their press and changed the pace of the game. The faster the game, the quicker the comeback.
"The game was getting to the point where we wanted it to be," Calhoun said. "Everything changed. Our press really saved us tonight and some young freshmen made big plays."
No. 12 Kentucky 76, Tulane 60
New Orleans - Keith Bogans scored 21 points - the fourth time this season he's topped 20 points - as No. 12 Kentucky beat Tulane 76-60 Tuesday night.
Bogans hit 5-of-5 from three-point range as Kentucky outshot the Green Wave 55 percent to 43 percent from the field, and 56 percent to 43 percent in three-pointers. Bogans also had a career-high six steals.
The Wildcats (5-1) took the lead less than two minutes into the game and never trailed. Waitari Marsh led Tulane (3-5) with 19 points.
Jules Camara scored 12 points for Kentucky, and Marquis Estill and Gerald Fitch added 10 apiece. Chuck Hays had 10 rebounds for the Wildcats.
Kentucky visited Tulane as a favor to Green Wave coach Shawn Finney. He and Kentucky coach Tubby Smith met at midcourt and hugged before the game. Finney, in his third season at Tulane, served on Smith's staff at Kentucky from 1997-2000 before taking over the Green Wave.
No. 15 Illinois 80, Eastern Illinois 68
Champaign, Ill. - Freshman Dee Brown scored 25 points - including 12 of 19 as Illinois took control early in the second half - and Brian Cook added 21 as the 15th-ranked Illini beat Eastern Illinois.
The Illini (6-0) led by four points early in the second half, when they took advantage of six turnovers by Eastern Illinois (3-5) to extend their lead to 15. Brown had two three-pointers during the surge, and was 5-of-8 from beyond the arc and 10-of-14 overall.
Henry Domercant, the nation's eighth-leading scorer at 25 points per game, had 30 for the Panthers. Domercant scored 14 points in the first 20 minutes, but went scoreless during a 10-minute stretch that included eight straight misses from the field.
Illinois led 38-32 at halftime behind Cook's 14 points and Roger Powell's 12. Powell finished with 16.
The Illini pushed the lead to 15 points with four minutes left in the first half with a 16-4 run. Cook had five points and Brown four in that stretch.
But the Panthers made nine free throws over the last four minutes of the first half to close to within six points.
Boston College 85, Iowa State 78
Ames, Iowa - Troy Bell scored 26 points and freshman Craig Smith had all 14 of his points in the second half, leading Boston College to an 85-78 victory against Iowa State on Tuesday night.
Bell opened the second half with a three-pointer to give Boston College (4-2) a 39-26 lead and the Eagles spent the rest of the game holding off Iowa State (5-1), which got to within two points but never pulled ahead.
Bell's performance fell short of the 42 points he scored in a victory against Iowa State last season, but it was good enough and he had plenty of help. Ryan Sidney added 14 points, Andrew Bryant scored 11 and Louis Hinnant 10.
Jared Homan led Iowa State with a career-high 18 points. Jake Sullivan and Adam Haluska scored 16 each, but Sullivan, the Cyclones' leading scorer for the season, made just 3-of-15 shots.
Copyright 2018 The Associated Press. All rights reserved. This material may not be published, broadcast, rewritten or redistributed. We strive to uphold our values for every story published.