Bethlehem, West Bank — Rain drips through the wooden roof of the ancient Church of the Nativity, cold and empty except for a few monks and a couple of children begging for change.
Just two weeks before Christmas, there are few signs of the holiday in the town where tradition holds Jesus was born.
Israeli soldiers patrol Manger Square after occupying the town for the third time in recent months. There is no Christmas tree in the square, no decorations, few pilgrims, little cheer. Through fog and wind, Palestinians rush through streets chewed up by tank treads to buy food before soldiers order them back inside.
For a third year, violence overshadows preparations for Christmas in Bethlehem. The holiday used to draw tens of thousands of tourists and was the lifeblood of the town's economy.
Just fewer than half of Bethlehem's 27,000 Palestinians are Christians; the rest are Muslims.
Bethlehem has been a place of despair since Israel-Palestinian fighting broke out in September 2000. Last spring, Israeli soldiers shut down the town for more than a month as troops hunted Palestinian militants they believed were behind suicide bombings in Israeli cities.
Built like a fortress over what Christians believe is the spot where Jesus was born, the 4th century stone-and-wood Church of the Nativity became a place of violence. For 39 days, gunmen hid out and survived on boiled grass and well water inside, and Israel surrounded the church with tanks and snipers.
Ancient frescos and a statue of the Virgin Mary were pocked by bullets, and several rooms were gutted by fire during the standoff. The bell-ringer was shot dead. A monk was shot and wounded.
Israeli troops reoccupied Bethlehem's streets for two months this summer and again three weeks ago, imposing curfews except for a few hours every fourth day.
During one such break Tuesday, Jack Giacaman, 30, hurried to finish carving olive wood Nativity figures he promised he'd have for a priest by Christmas.
The workshop, where four generations of his family have carved crosses and figures of Jesus and Mary out of sea shells and olive tree branches, is mostly idle these days. A business that once fed 25 families now brings in almost no money.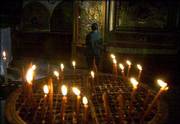 "We don't feel as we did in years past," said Giacaman, who is Roman Catholic. "In these days we ask one question: Will we be able to go outside on Christmas and reach the church?"
But there's little time to think about Christmas, amid the worry over basic things :quot; how to shop for food, send children off to school, buy gas and line up at banks during the brief periods when soldiers allow people out on the streets.
Organizers are still hoping soldiers will leave in time to open a Christmas craft and food market and to distribute toys and clothing to poor children.
Mayor Hanna Nasser says no one has time to put up the Christmas tree in Manger Square.
He is angry that two weeks before the holiday, troops still patrol the streets, but no one outside his town is complaining.
"I'm deeply astonished by the silence of the heads of the Christian churches all over the world for not calling on Israel to leave Bethlehem as soon as possible," he said.
Copyright 2018 The Associated Press. All rights reserved. This material may not be published, broadcast, rewritten or redistributed. We strive to uphold our values for every story published.