Philadelphia — A former hotel security guard says he overheard a police detective make a toast to Allen Iverson's "next felony" last summer, days before the NBA star was charged with threatening two men with a gun.
Wesley Gregg told Iverson's lawyers he was working a late-evening shift at a Philadelphia hotel July 8 when he spotted the lead detective in the investigation dining with other officers at the hotel's bar and heard him boast "he is going down" when a news story about the 76ers player appeared on TV.
When the detectives got up to leave, Lt. Michael Chitwood made a toast: "This is for Iverson's next felony," Gregg said in a signed statement he gave Iverson's attorneys on July 24.
The lawyers never used the statement in court. Prosecutors dropped all charges against Iverson after the two men he was accused of threatening said they were unwilling to testify.
But the tale was passed along to Iverson, and his attorneys said Tuesday it formed the basis for comments the star made about Philadelphia police last month.
"I've heard about police officers toasting to Allen Iverson's next felony conviction," Iverson said during an interview with The Philadelphia Inquirer and the Daily News.
"I'm hearing about them saying I'm involved with one thing or another, and it scares me. I know that if there's a crooked cop out there, they could do anything to me. He could do anything. Allen Iverson could wind up dead tomorrow if a crooked cop wants him dead."
After the interview, police commanders said such behavior by officers would not be tolerated. Some officers said they were offended by Iverson's remarks and considered them baseless. Several dozen said they would boycott a 76ers law enforcement appreciation night unless Iverson apologized.
Later, Iverson said he had intended to direct his criticisms at "just a very few individuals" on the force.
One of his attorneys, Larry Woodward, said Tuesday the guard's signed statement proves that "Allen didn't just go out and make this thing up."
"There was skepticism, or people were wondering where all that came from. Well, now they know," he said. He declined to provide Gregg's statement to The Associated Press, but a copy was printed in Tuesday's editions of the Daily News.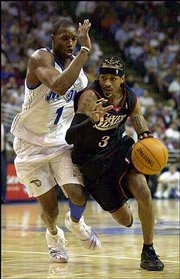 Chitwood, a decorated officer well known in the city for his involvement in high-profile cases, did not immediately return a phone call Tuesday.
He told the Daily News he was at a steak house in the Sheraton on the night in question, but denied making a toast involving Iverson.
"It's positively, undeniably false," he said.
Attempts to locate Gregg, who no longer works at the hotel, were not immediately successful. Iverson, one of the league's most popular players, was unavailable after the 76ers' practice Tuesday.
Copyright 2018 The Associated Press. All rights reserved. This material may not be published, broadcast, rewritten or redistributed. We strive to uphold our values for every story published.