Washington — William H. Donaldson, an investment banker with ties to Wall Street and the Bush family, was chosen by President Bush on Tuesday as the new chairman of the besieged Securities and Exchange Commission. He pledged to work to restore confidence in the markets and corporate America.
At a White House ceremony, Bush said Donaldson's mission would be "to vigorously enforce our nation's laws against corporate corruption and to uphold the highest standards of integrity in the securities markets."
Bush said restoring confidence in the markets was essential to the country's economic well-being. Donaldson said, "It's time for all of us to pull up our socks."
He noted the numerous cases of corporate wrongdoing during the past year and said he would deal with them swiftly.
Amid uncertain markets and a shaky economy, Bush is moving to revamp his economic team in advance of the 2004 election campaign. On Monday, he named railroad executive John Snow to succeed Treasury Secretary Paul O'Neill. Still to be named is a replacement for White House economic chief Larry Lindsey, who, like O'Neill, was forced out.
Wall Street investment banker Stephen Friedman was said to be the leading candidate, but a final decision by Bush is awaiting the resolution of unspecified personal and professional issues that recently cropped up for Friedman.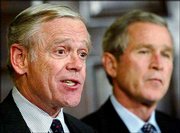 Bush also is promising a new tax-cut package, which aides say could cost as much as $300 billion over 10 years, as the White House tries to control political damage from the ailing economy.
Democrats criticized Bush's economic team as well as his policies, and called for SEC Chairman Harvey Pitt's resignation. Pitt quit under pressure last month over his handling of the SEC's response to financial debacles at Enron and other big companies that wiped out investors' retirement savings.
Donaldson was chairman of the New York Stock Exchange from 1990-95 and a co-founder of Donaldson, Lufkin & Jenrette, a well-known investment banking firm.
His appointment to the SEC requires Senate confirmation.
Copyright 2018 The Associated Press. All rights reserved. This material may not be published, broadcast, rewritten or redistributed. We strive to uphold our values for every story published.