The first official candidate of the 2003 Lawrence school board race supports a planned $59 million bond issue for school construction and closure of three elementary schools.
Lawrence bank executive Cindy Yulich filed Tuesday at Douglas County Courthouse for one of four pending vacancies on the board.
"I believe in the power of public education and I believe in community service," she said. "I think I know the issues. I bring a lot of strengths to the board."
Board members Scott Morgan, Mary Loveland, Jack Davidson and Sue Morgan face re-election. As of Tuesday, none had committed to running again.
Yulich, 43, is a senior vice president at Emprise Bank and oversees both Emprise locations in Lawrence.
She supports the board's $59 million bond issue for school construction and renovation. The bond vote will coincide with the general election April 1.
"I'd be for the bond issue," Yulich said. "We need to give kids good facilities."
Yulich endorsed closure of Centennial, East Heights and Riverside schools to permit more efficient use of district resources.
She said lack of state funding had forced public school districts into a cost-cutting mode. "It's going to get tougher before it gets better," she said.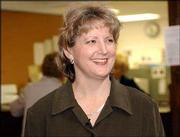 Yulich said she didn't want the election to focus entirely on the bond issue and consolidation.
"This shouldn't be a single-issue campaign," she said.
The debate needs to include strategies for protecting the district's quality teaching staff and maintaining solid academic programs in the schools, Yulich said.
Yulich has lived in Lawrence for 11 years and has been a volunteer in the district's business-education partnership program since 1995. She's on the East Heights and Quail Run site councils.
Her children attend Southwest Junior High School and Quail Run.
Copyright 2018 The Lawrence Journal-World. All rights reserved. This material may not be published, broadcast, rewritten or redistributed. We strive to uphold our values for every story published.