Oslo, Norway — Jimmy Carter accepted the Nobel Peace Prize on Tuesday - long-awaited for his diplomacy in the Middle East in the '70s - with a warning to nations to avoid bloodshed in resolving their conflicts.
With the world on edge over terrorism and a possible U.S.-led attack on Iraq, the former U.S. president told an audience at the Nobel ceremony that war only breeds more war.
"War may sometimes be a necessary evil," he said. "But no matter how necessary, it is always an evil, never a good. We will not learn to live together in peace by killing each other's children."
And while he did not mention President Bush by name, Carter cautioned against the use of war as a tool of policy.
"For powerful countries to adopt a principle of preventive war may well set an example that can have catastrophic consequences," he said.
Carter, 78, accepted the award at a solemn ceremony with music and flowers at the Oslo City Hall.
He was honored for his pursuit of peace, health and human rights that began with the 1978 Camp David accords between Israel and Egypt that - but for a formality - would have won him the prize 24 years ago. He was nominated too late.
Carter's wife, Rosalynn, and their children and grandchildren were among the hundreds in the audience, as was Norwegian King Harald V.
Smiling broadly, Carter, wearing a dark suit and red tie with blue-and-white stripes, displayed the gold Nobel medal and diploma to sustained applause. The prize also includes $1 million cash.
"This year's laureate does the opposite of what his countryman, Mark Twain, once wrote about forgetting where you bury the peace pipe but not where the battle-ax is buried. Carter never mislays the peace-pipe," Nobel official Gunner Berge said.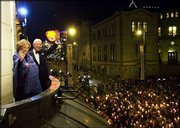 Berge, chairman of the five-member Norwegian awards committee, caused a stir when he announced the prize in October and called it a "kick in the leg" to President Bush.
Carter, a Democrat, has repeatedly urged the Republican administration to continue working with the United Nations to ensure Iraq has no weapons of mass destruction, and to avoid unilateral military action.
"Global challenges must be met by an emphasis on peace, in harmony with others, with strong alliances and international consensus," he said. He urged respect for the United Nations as an international forum for solving disputes.
In his anti-war appeal, Carter also cited the 1950 Nobel peace laureate, Ralph Bunche, also an American.
"To suggest that war can prevent war is a base play on words and a despicable form of warmongering. The objective of any who sincerely believe in peace clearly must be to exhaust every honorable recourse in the effort to save the peace," he said, citing Bunche's Nobel lecture. "The world has had ample evidence that war begets only conditions which beget further war."
Nearly 2,000 Norwegian children greeted Carter in a peace celebration outside city hall in the snow-covered Norwegian capital. Tuesday night, thousands of Norwegians held a torch-light parade in Carter's honor, ahead of the traditional Nobel lecture.
A Nobel concert, featuring performers including Willie Nelson and Santana, is scheduled for today.
Copyright 2018 The Associated Press. All rights reserved. This material may not be published, broadcast, rewritten or redistributed. We strive to uphold our values for every story published.