DETROIT — He stands proud in a gray business suit and red tie, and he speaks strong words about fighting terrorism - if you press a button on his back.
Meet George W. Bush, the talking action figure.
Conservative-friendly media sources like the Drudge Report and the Washington Times are hailing the toy president as a hot stocking stuffer.
Less partisan sources are wondering whether he'll become the next Big Mouth Billy Bass, the singing fish that took the novelty market by storm a few years ago.
The Bush doll is 12.5 inches tall and says 17 phrases lifted from broadcasts of Bush's speeches and other public statements.
The selection ranges from soaring oratory ("Terrorism against our nation will not stand") to rhetoric from the 2000 campaign ("I don't have an adviser on my staff trying to convert me into some kind of alpha male.")
Altogether, the twig-sized Bush spouts two minutes worth of sound bites, including a few that bolster his reputation as the Norm Crosby of presidents.
Like one about "putting food on your family." Or, "I will not hold this nation hostile."
"It's got a couple of his bloopers on there, but it's done in a very positive way," says John Warnock, a California-based entrepreneur who's been selling the doll online for $29.99 for about two weeks.
Warnock, who remodels garages for a living, said the concept seemed like a natural to him. "I like presidents and I like toys," he said. "I just think it's a neat idea."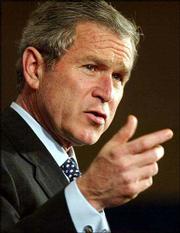 So does Matt Drudge, who posted an item about the Bush doll on his Web site Thursday. The response "basically crashed our server," said Warnock, who's been swamped with orders since.
Next up for Warnock? A discussion with Wal-Mart about the Bush doll.
The doll is generating brisk advance orders for a gift-store chain in the Washington, D.C., area called America!.
"I've doubled my order twice, and I wouldn't be surprised if I double it again in a couple of days," says Jane Crawford, president of America!, which also sells Bush paper dolls and Bush bobble-head dolls.
Warnock's father-in-law, Jim Wessling, who's working with him on the venture, said the first large-scale shipment of dolls was expected to arrive in their warehouse this week. They've ordered 21,000 dolls from a factory in China.
Warnock assumed the real George W. Bush will like the plastic version. He sent an e-mail to the White House, but he said he hadn't gotten a reply yet.
He also plans to make talking action figures out of John F. Kennedy, Richard Nixon, Bill Clinton and George Bush the elder.
But back to Dubya. The doll sounds just like him, but does it look like him?
The hair and nose are pretty close, yet there's something vaguely Jimmy Carter-ish about the smile.
Others see hints of another world figure who's around Bush's age.
"I think he's a dead ringer for Prince Charles," Crawford said.
Copyright 2018 The Lawrence Journal-World. All rights reserved. This material may not be published, broadcast, rewritten or redistributed. We strive to uphold our values for every story published.