Eudora — The only person in Eudora High's gymnasium who knew Emily Brown was nervous Tuesday night was Emily Brown.
The Baldwin junior sure didn't show it.
It didn't show when she deflected a Kansas City Ward shot in the final minute and half, giving Brown her first ever triple-double.
And it certainly didn't show when she answered what would have been Ward's game-winning basket with one of her own in the final five seconds - giving the Bulldogs a 52-50 victory and berth to the finals of the Eudora Invitational.
"I'm always nervous out there," Brown said. "I'm not used to being the go-to guy."
Brown, a 6-foot-2 forward, followed her 24-point performance on Monday with a 28-point, 11-rebound, 10-block effort against the Cyclones.
"She's beginning to understand that she has the ability to be a great player and starting to show that," said Baldwin coach Eric Toot, whose 3-0 Bulldogs will play Spring Hill in Thursday's 8:30 p.m. championship.
Brown's talent was never more evident than in the first and fourth quarters Tuesday.
She scored 12 points in the first eight minutes to go with five boards and seven blocks.
And in the fourth, when her teammates began to panic because of Ward's press, Brown provided poise - and the only points of the period.
The Cyclones erased a fourth-quarter deficit and took the lead for the first time, 48-47, when Molly Dumovich scored on a lay-in with 2:18 left.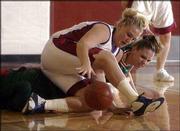 Baldwin, which led 47-35 going into the fourth, was held scoreless for nearly six minutes in the fourth quarter.
But Brown brought the Bulldogs back in front with a putback 11 seconds after Dumovich's goal. Baldwin missed a 1-and-1 opportunity, but Brown erased Ellen Stump's shot in the lane with 1:22 left.
An errant Bulldog passed allowed Dumovich - who scored 17 points, along with Ellen Stump - an uncontested lay-up with 1:09 left.
The Cyclones couldn't secure victory, missing two 1-and-1 efforts of their own.
Baldwin's Kayla Pringle missed a jumper in the last 10 seconds, but Brown leapt over two Ward defenders for the rebound and calmly made the putback and was fouled.
"We couldn't do much to slow her down," Ward coach Mike Dunn said of Brown.
Baldwin 52, Kansas City Ward 50
Baldwin 11 18 18 5 - 52
KC Ward 9 14 12 15 - 50
Baldwin (3-0) - Anna Skaggs 4, Kayla Pringle 3, Kari Garrison 8, Emily Brown 28, Katelyn Miles 9.
KC Ward (2-1) - Alison Rank 4, Beth Baughman 2, Molly Dumovich 17, Clare Stump 6, Ashley Foster 4, Ellen Stump 17.
Topeka Highland Park 42, Eudora 22
It was another rough night for coach Cara Kimberlin's team.
The Cardinals (0-3)combined for just three points in the first and third quarters and scored 12 of their 22 points from the foul line :quot; but made less than 50-percent of their free throws.
"It's pretty ugly when more than half your points come from the free-throw line and you struggle there, too," Kimberlin said of her team.
"Tomorrow will be kind of nice because we'll have a day to practice and run through some things on offense. That's definitely where we need the most work right now."
Highland Park 42, Eudora 22
Highland Park 9 11 7 15 - 42
Eudora 0 7 3 12 - 22
Highland Park (1-2) - Cherice Swopes 5, Candace Roberts 4, Corine Kingcannon 3, Amber Parker 12, Ashley Jones 3, Danyelle Tyree 2, Charressa Gray 2, Monique Johnson 3, Ashley Middleton 8.
Eudora (0-3) - Joni Ridinger 5, Michelle Deluna 4, Kayla Moyer 4, Jodi Wingebach 2, Alissa Hamilton 2, Mallorie Cleveland 5.
Copyright 2018 The Lawrence Journal-World. All rights reserved. This material may not be published, broadcast, rewritten or redistributed. We strive to uphold our values for every story published.