Chicago — United Airlines filed the biggest bankruptcy in aviation history Monday, vowing to keep its jets flying while it tries to straighten out a business that is hemorrhaging as much as $22 million a day.
The world's No. 2 airline is certain to cut employee wages, reduce flights and eliminate unprofitable routes during a Chapter 11 reorganization that United chief executive Glenn Tilton expects to last about 18 months.
"We've made a good decision for United," Tilton said. "This is a tremendous opportunity for United to transform this company and to emerge stronger than ever."
The bankruptcy filing is the sixth-largest in U.S. history, covering $22.8 billion in assets.
United operates about 1,700 flights a day, or about 20 percent of all U.S. flights. It has the most extensive worldwide route structure of any airline, but also the industry's highest costs.
Passengers are not likely to see any immediate effect on flights or frequent-flier miles, according to both United and industry analysts.
But the bankruptcy filing could set in motion a restructuring of the entire industry, with large airlines forced to become more like their low-cost rivals, with fewer and smaller planes and lower wages for their workers.
United has lost $4 billion in the last two years because of the weak economy, flawed business strategies and fallout from the Sept. 11 attacks.
The airline cut service and laid off nearly 20,000 workers after the terrorist attacks, but it has not come close to making up for revenue lost from the drop-off in business travel.
United had hoped to stave off bankruptcy by obtaining a $1.8 billion federal loan guarantee. But the Air Transportation Stabilization Board, created to help the industry recover after Sept. 11, rejected United's request last week as too risky for taxpayers.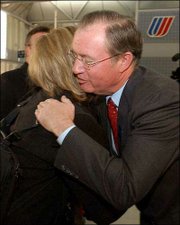 United said it had lined up $1.5 billion in financing from several banks to continue operating in Chapter 11.
The bankruptcy filing will come at a steep price for the 83,000 employees who own 55 percent of the company. A federal bankruptcy judge is almost certain to order wage and job cuts, and could dissolve the employee stock ownership plan.
Union leaders said both sides must work together during restructuring.
"Despite the difficulties that brought us to this point, we must now come together and focus our efforts on the survival of United Airlines and ensuring that this bankruptcy does not lead to liquidation," Machinists' presidents Randy Canale and Scotty Ford told members in a statement.
Tilton said United executives would take 11 percent pay cuts and salaried and management employees would lose 2.8 percent to 10.7 percent. Tilton's base salary is $950,000, though his contract included a signing bonus of $3 million, stock options and millions in potential benefits.
Despite expectations that United's stock would become worthless, its parent company, UAL Corp., closed unchanged at 93 cents Monday on the New York Stock Exchange, with more than 57 million shares traded. The stock was worth $100 a share in 1997.
Copyright 2017 The Associated Press. All rights reserved. This material may not be published, broadcast, rewritten or redistributed. We strive to uphold our values for every story published.