Bloomington, Ind. — Bracey Wright made his first six shots Monday night and never stopped shooting.
Wright scored 31 points, five short of setting the school's freshman single-game scoring record, as he led No. 7 Indiana to a 73-56 win against Vanderbilt.
"Whenever you have a freshman out there scoring 30 points and making it look as easy as he did, you're just glad he's on your team," point guard Tom Coverdale said.
Wright made five three-pointers, grabbed five rebounds and had five assists for the Hoosiers (7-0), who have their highest ranking since finishing the 1992-93 season No. 1 in the country.
The Hoosiers dominated Vanderbilt, producing their best start since 1989-90 and their longest winning streak since 1995-96.
Wright played a major part, shooting 11-for-20. To him, it appeared that there was nothing outside his range - including the 25-footer he hit to start the second half.
It was that kind of night.
"I only took nine shots the last game and we were joking around about how I needed to put more shots up," Wright said. "After I hit my first six, they said 'Keep shooting it if I got open."'
He had little trouble picking his spots. Wright scored more points than any freshman at Indiana since A.J. Guyton had 31 against Purdue on Feb. 18, 1997.
In the game's final minutes, he missed the front end of a one-and-one, a short baseline jumper, a three-pointer and a dunk, preventing him from breaking Jay Edwards' freshman record of 36 points set March 10, 1988.
"When they space out like that, it gives guys like Bracey a chance to score," Indiana coach Mike Davis said. "I told you he has a different gear."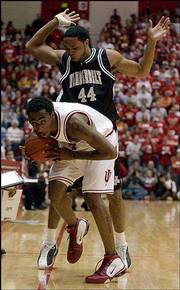 Wright scored the game's first eight points and never slowed down. When he hit his fourth three-pointer, with 9:28 left in the half, Vanderbilt was already in a 23-8 hole. When he made two free throws with 5:20 to go, the Hoosiers led 35-17.
Only an 8-0 Vanderbilt run near the end of the first half kept things close.
When Wright opened the second half with the 25-footer, the Commodores (5-2) knew they were in big trouble. Matt Freije led the team with 18 points and David Przybyszewski had 14.
"They're a great shooting team and, obviously, Bracey Wright got into a great rhythm," said Vanderbilt coach Kevin Stallings, a former Kansas University assistant under Roy Williams.
Wright was only one of the problems Stallings contended with Monday.
Stallings, who had been dealing with a bad back for the past few games, felt the back go out on him on the game's second play.
Trainers helped him into a back brace and he sat stiffly on a folding chair for the rest of the game. That prevented Stallings from concentrating on Wright's sensational start.
"The first few minutes were really a blur to me," he said. "I was just trying to figure out how to make it through the game."
Vanderbilt never seriously challenged in the second half, as the Hoosiers extended their lead to as much as 67-47.
Jeff Newton got his fourth straight double-double, with 10 points and 13 rebounds, and Kyle Hornsby added 12 points. George Leach had six of Indiana's 10 blocks and had a game-high 14 rebounds.
But the night clearly belonged to Wright.
"Bracey came out and made shots and made shots and made shots," Davis said. "It's just really tough to defend him off the dribble."
No. 13 Xavier 68, Miami-Ohio 58
Cincinnati - David West scored 18 points despite struggling with his shot, and No. 13 Xavier wasted most of a big second-half lead before holding on to topple Miami of Ohio.
Playing two days after an emotional victory against crosstown rival Cincinnati, the Musketeers (5-1) let a 15-point lead slip to one before finishing strong. Lionel Chalmers also had 18 for Xavier.
Chet Mason led the RedHawks (3-4) with 19 points.
Copyright 2018 The Associated Press. All rights reserved. This material may not be published, broadcast, rewritten or redistributed. We strive to uphold our values for every story published.