Caracas, Venezuela — Venezuelans waited up to four hours for gasoline and stocked up on food and water Monday as a strike seeking President Hugo Chavez's ouster created shortages at markets, banks, pharmacies and service stations.
The growing shutdown increased pressure on Chavez to give in to opposition demands to call a referendum on his government or resign. Already, the eight-day strike has crippled the oil industry - the world's fifth-largest and Venezuela's main source of revenue.
Gas, drinking water and cash at automatic teller machines were increasingly scarce in Caracas and other cities. Dozens of domestic flights were canceled. Banks closed. Motorists waited in a mile-long line for gas in the central city of Valencia.
"There has been lots of panic buying," said Caracas shopkeeper Dulce Araujo.
Dozens of treasury and customs agents joined the opposition strike, which began Dec. 2.
Harbor pilots and cargo handlers closed Venezuela's biggest port, Puerto Cabello, 90 miles west of Caracas, said Jorge Serrano, president of the National Ports Institute.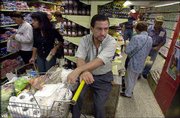 Chavez ordered the military to help the Energy Ministry guarantee gas supplies and oil exports by all means necessary - including by temporarily seizing private truck fleets.
Citing economic and political turmoil, Venezuela's opposition had demanded that Chavez call a nonbinding referendum on his presidency in February.
Chavez, a populist former army paratrooper elected in 1998 and re-elected in 2000, refuses to call elections that could cut his term, which ends in 2007 - though he's offered to take on challengers in a binding referendum next year.
The strike has shut down Venezuela's oil industry, which produces 30 percent of the nation's $100 billion gross domestic product.The United States consumes more than half of Venezuela's exported oil.Venezuela's crisis caused international oil prices to rise Monday. January crude rose 40 cents to $27.33 a barrel at the New York Mercantile Exchange.
Copyright 2018 The Associated Press. All rights reserved. This material may not be published, broadcast, rewritten or redistributed. We strive to uphold our values for every story published.