Boston — The Boston Celtics outdueled the Orlando Magic when it counted.
Paul Pierce scored 30 points, including 10 of Boston's final 12 in regulation, and Antoine Walker added 28 points as the Celtics beat the Orlando Magic 114-109 in overtime on Monday night.
"We feel overtime is our time to win games especially on our home floor," Walker said. "We haven't been great defensively all year, but we are a stingy team late in the game and it showed tonight."
Orlando's Tracy McGrady led all scorers with 31 points, Mike Miller added 29 and Grant Hill had 20 points, 14 rebounds and seven turnovers.
The Magic had a drought of 6:59 without a field goal starting with 2:52 left in regulation. Miller, who was 6-for-9 from behind the three-point arc, was held scoreless in that stretch.
"When you have a guy going like Miller was tonight, we call it 'Feed the pig,"' Magic coach Doc Rivers said. "When the pig is hungry and running, you need to keep feeding him and we did a poor job of that tonight."
Tony Delk scored 20 points for the second consecutive game for Boston.
With the Celtics trailing 85-83 with 5:14 remaining in the fourth, Pierce scored 10 straight points for Boston to help the Celtics tie the game at 93 with 2:39 remaining.
"We were outstanding defensively with the game on the line," Celtics coach Jim O'Brien said. "I thought we played tough mentally and showed a tremendous amount of intensity."
Walker then followed with a runner in the lane to give the Celtics a 95-93 lead. McGrady tipped in his own miss with 1.3 seconds remaining to send the game into overtime.
"It should have been a three-point play," McGrady said. "No foul was called and it pushed the game into overtime. They competed harder than we did in overtime and got the win to show for it."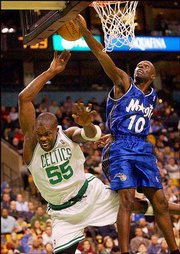 The Celtics controlled the overtime, jumping out to a 105-96 lead courtesy of a pair of three-pointers by Delk and Walker. Orlando closed to 107-101 with 37.1 remaining, but a free throw by Pierce sealed the victory. The Celtics have won eight of 10 overall and are 5-1 in their last six against Orlando.
Pierce has 57 points, 17 rebounds and 14 assists in the Celtics' two victories against the Magic this season. Boston won the previous meeting 102-97 in Orlando.
Delk also had six rebounds and six assists, while Pierce chipped in with seven rebounds and six assists.
McGrady had nine rebounds, but was held to only six points in the fourth quarter and overtime. He was coming off his poorest outing of the season, shooting 4-for-20 in a 121-88 loss to New Jersey on Saturday.
T'wolves 92, Nuggets 84
Denver - Troy Hudson scored 10 of his 22 points in the fourth quarter and Kevin Garnett had 20 points and 13 rebounds, leading Minnesota past Denver.
Hudson and Garnett combined for 18 points in the fourth quarter for the Timberwolves, who had lost two of their previous three games. Garnett has double-doubles in 11 straight games.
Juwan Howard led the Nuggets with 16 points and seven rebounds.
Garnett's two baskets gave Minnesota the lead for good, 77-75, with 4:45 to go. Two free throws by Howard got the Nuggets as close as 79-77, but Hudson began an 8-0 run and finished it for Minnesota with two free throws after Garnett blocked Howard's shot.
Minnesota held a 47-44 lead at halftime after leading by as much as 34-26 after Anthony Peeler's three-pointer with 7:58 left. The Nuggets cut the lead to three points on a three-pointer by James Posey and Howard's jumper.
Garnett took only three shots, but made two jumpers and had an assist on a no-look pass to Rasho Nesterovic, who had eight points in the first quarter.
Clippers 94, Hornets 90
New Orleans - Elton Brand scored 13 of a season-high 29 points in the fourth quarter.
Brand, who surpassed 20 points for the sixth straight game, scored seven straight points after Baron Davis' three-pointer gave New Orleans an 81-79 lead.
The Hornets, meanwhile, uncharacteristically fell apart in the final three minutes, turning the ball over twice and missing a pair of long jump shots.
Bucks 140, Cavaliers 133, 2OT
Cleveland - Sam Cassell scored 39 points and Anthony Mason had six in the second overtime, helping Milwaukee overcome Ricky Davis' 45 points to beat Cleveland.
Davis and rookie Smush Parker, who scored 16 of his 20 points after the start of the fourth quarter, as Cleveland overcame a 21-point deficit to send the game into overtime.
Nets 106, Suns 93
East Rutherford, N.J. - Jason Kidd had 20 points, seven assists and six rebounds and the New Jersey Nets made amends for a dismal game in Phoenix less than two weeks ago.
Richard Jefferson added 19 points and Rodney Rogers had 18 as the Nets had six players in double figures.
Copyright 2018 The Associated Press. All rights reserved. This material may not be published, broadcast, rewritten or redistributed. We strive to uphold our values for every story published.