DEERFIELD, ILL. — There's nothing like a good massage or even an eyebrow waxing to relieve a little teenage angst. So says 17-year-old Jessica Schwartz, who frequents a day spa in her suburban Chicago hometown every other week.
"It's something we do to de-stress ourselves from homework, boys, things like that," she said. "There's a lot going on in the world."
With more disposable income than any young generation before them, a growing number of teens - like Schwartz and her friends - are pampering themselves with spa services traditionally sought by adults.
Jessica's mother, Betty Schwartz, sometimes pays for her daughter's visits, which can top $100 each. But more often, Jessica uses money from her afterschool job, often opting for a massage or facial over dinner out with friends or concert tickets.
"I think it's really decadent, but it's probably cheaper than psychology," her mother said.
Some spa managers have seen children as young as 5 coming in for parent-supervised massages and other services.
Parents say it's an attempt to help their children find a little inner peace early in life. And sometimes tony surroundings aren't always required: Girl Scouts, for instance, can now earn "stress less" badges.
Alison Schmitt, a 12-year-old cadet from Rutherford, N.J., says yoga and breathing exercises help calm even her biggest fears.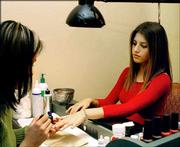 "Like terrorism and the possibility of war," the seventh-grader says, noting that her father worked two blocks from the World Trade Center when the towers were destroyed last year. (He made it home safely.)
But when it comes to teenage girls frequenting spas, not everyone thinks stress is the reason.
"I think it's more vanity than anything else - and being able to be 'chichi-foufou' and say they went to a spa," says Nancy Ganzon, administrative manager at the Murrieta Day Spa in Murrieta, Calif.
While not every teen can afford such luxuries, a surprising number can. Last year, the average teen spent $104 per week, according to a study by Teenage Research Unlimited.
That kind of spending power got the attention of Seventeen magazine, which licensed its name to the Seventeen Studio.Spa.Salon, geared specifically to teens.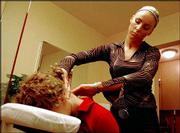 The first, complete with "pedicure pits" and "manicure bars," opened in Plano, Tex., earlier this year. And president and CEO Susan Tierney says the company plans to open 36 more in high-income areas nationwide with big teen populations.
They'll be looking to lure people like 15-year-old Jennifer Ernst from Highland Park, Ill., also home to Michael Jordan and family.
Jennifer's parents got her a spa certificate two years ago for her good grades. In May, she got a massage and facial to help her relax before a national classical guitar competition in which she placed third.
Copyright 2018 The Associated Press. All rights reserved. This material may not be published, broadcast, rewritten or redistributed. We strive to uphold our values for every story published.