South Africa — The presidents of South Africa, Mozambique and Zimbabwe signed a treaty Monday to create the world's largest wildlife reserve - a game park that will allow animals and visitors to roam across their shared borders.
But the Greater Limpopo Transfrontier Park, to eventually include 14,000 square miles of scrubby sunbaked bush, will be years in the making.
South African President Thabo Mbeki, speaking at the treaty signing in Mozambique, hailed it as a sign "that each passing day transforms the dream of an African Renaissance into reality."
The park remains years away: roads and lodges must be built, land mines removed, poaching controlled, politics and financing negotiated, and more than 20,000 villagers living inside the Mozambican section must be accommodated or relocated.
Efforts to restock the Mozambican side with wildlife, depleted during a lengthy civil war, have met partial success.
About 1,000 elephant, zebra, blue wildebeest, warthog, impala, water buck and giraffe have adjusted to their new surroundings. But a pack of male elephants crashed through the fence to return to South Africa's Kruger National Park soon after relocation.
"I can understand the haste to get the wonderful process going, but ... if (the) process is too hasty, then the end product, the park, will be jeopardized," said project consultant David Grossman.
Politicians and planners point to the big picture: ecotourism in the underdeveloped border region and new expanses for migrating wildlife.
The World Bank and German government are the main sponsors. The so-called peace park - about the size of Israel - will link South Africa's Kruger National Park with Limpopo Park in Mozambique and Gonarezhou National Park in Zimbabwe.
So far, most of the funds have gone to preparing the Mozambican side. Once the border fences are down, park officials say, the booming elephant population in Kruger Park will be free to roam to Mozambique - ending any need for culling. Endangered species, such as the roan antelope, could flourish.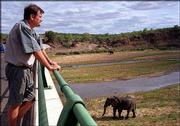 The Zimbabwean side is to be linked to South Africa via a corridor, first for people and later for animals.
Park proponents hope it will serve as a model for 21 others planned across Africa. A transfrontier park linking the Kalahari across the borders of South Africa and Botswana opened recently.
Arrie van Wyk, project manager for the Mozambican park, said the park will allow animals currently confined by international borders to return to traditional migratory routes.
"There was an east-west migration of animals to the coast ... there was a lot of movement of animals. All of a sudden they are fenced in, there are people around, and they can't move around," said van Wyk.
The idea for the park dates to the 1930s, but planners say it could not have been carried out until now, with the end of both South Africa's racist apartheid regime and Mozambique's 16-year civil war.
The individual parks will still function independently, but issues of common interest - such as managing the flow of tourists who will cross international boundaries with a single visa - will be overseen by a joint management board.
Copyright 2018 The Associated Press. All rights reserved. This material may not be published, broadcast, rewritten or redistributed. We strive to uphold our values for every story published.