New York — Sandra Bullock in a slinky black evening gown, edging past paparazzi. A throng of onlookers waiting in vain for the arrival of Leonardo DiCaprio (he sneaked in through a side entrance). Candice Bergen holding court with friends and fans in the lobby.
It wasn't a typical night at the opera.
But this wasn't just any opera: It was Baz Luhrmann's production of "La Boheme," the Puccini classic about young artists living and loving in the garrets above Paris.
Luhrmann is best known for directing fast-paced, eye-catching movies such as "Moulin Rouge" and "Romeo + Juliet." His Hollywood friends turned out in force for the opening of "Boheme" Sunday night on Broadway.
"I have no idea what to expect," said Marcia Gay Harden, Oscar winner for "Pollock," as she arrived. "That's the amazing thing about his work - expect the unexpected."
Luhrmann has a reputation for visual extravagance, and most attendees predicted they would be wowed by the show's design.
"I'm sure it'll be colorful, a real feast for the eyes," said John Turturro, flashing his toothy grin for photographers.
Luhrmann himself arrived just before curtain with his wife, Catherine Martin, who designed the show's sets and co-designed its costumes.
"I'm nervous, but it's exciting," said Luhrmann, looking stylishly unkempt in a partially unbuttoned ruffled shirt and black coat. "Tonight, I just want to commit to enjoying myself."
During the performance, the celebrity-studded audience shouted its approval after every scene, gasping at the 1950s-styled sets.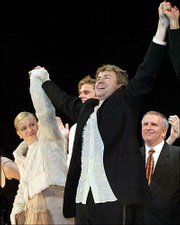 During the first scene change, actress Rita Wilson ("Auto Focus") whispered excitedly to a friend seated next to her in the third row.
"This is extraordinary! They'll be talking about this for the next five years," she said.
By the time the final curtain went down, to riotous applause, her enthusiasm hadn't waned. "I don't think I've ever seen anything so well-received," she said. "It reminds me of the first time I saw 'Les Miserables' - it's that revolutionary."
No one knew quite what to expect of the singing in Luhrmann's "Boheme." The opera is usually sung by performers in their 40s or 50s, but Luhrmann cast his production with singers in their 20s to match the ages of Puccini's characters.
Audience members reported being as impressed with the show's performances as they were by its visuals.
"The design of the show was wonderful, but I thought the voices were exceptional too," said theater actress Jennifer Prescott as she filed out of the Broadway Theatre.
Copyright 2018 The Associated Press. All rights reserved. This material may not be published, broadcast, rewritten or redistributed. We strive to uphold our values for every story published.