Kansas City, Mo — It ended with a big, loud thud for the St. Louis Rams.
Their three-year postseason run, which included two Super Bowl appearances and one championship, came crashing to a halt Sunday in one of the most lopsided losses in the history of a proud franchise.
Dante Hall returned two kicks for touchdowns and Priest Holmes ran for 132 yards and two more TDs, leading Kansas City and coach Dick Vermeil to a 49-10 victory over the injury-battered Rams.
"It's embarrassing," Rams cornerback Dexter McCleon said. "That's all you can say. There wasn't anything good that happened today."
The third-most lopsided loss in team history, combined with San Francisco's 31-27 victory over Dallas, officially eliminated the NFC's troubled defending champions (5-8) from playoff contention.
"This is something I'm not used to," said cornerback Dre' Bly. "So it's tough."
By coincidence, the coach that eliminated the Rams was Vermeil, who coached St. Louis to the Super Bowl title after the 1999 season. Vermeil then retired unexpectedly, only to come back a year later to lead the Chiefs (7-6).
"There's nothing vindictive or personal in regards to beating the St. Louis Rams," he said.
Hall returned a punt and a kickoff for touchdowns, becoming the second NFL player to accomplish that feat this year, but the first to do it in the Chiefs' 40-year history.
"It feels good," said Hall, who averaged 44.7 yards on three kickoff returns and 47.5 yards on four punt returns. "We work hard all week, and then we come out and put in a performance like this. That's the thing we enjoy when we see our hard work paying off."
After Jeff Wilkins' 36-yard field goal gave St. Louis a 3-0 lead early in the first quarter, Hall took the ensuing kickoff at his own 12-yard line and raced untouched down the left sideline for his first score.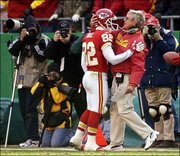 Shortly after the midpoint of the second quarter, Hall fielded Mitch Berger's high punt at the Kansas City 14. He started left, then cut back across the field and broke free down the right sideline for an 86-yard TD that gave the Chiefs a 28-10 lead.
Hall showed flashes of what he could do to the Rams in August, when he had four kickoff returns for 144 yards and averaged 17.5 yards on two punt returns in Kansas City's 23-16 exhibition win.
"It all comes down to missed tackles," said linebacker Don Dixon, the Rams' special-teams captain. "We missed one or two tackles on him, and he got loose on us. We knew coming in he was a dangerous kick returner."
Hall is the 20th player in NFL history to return two kicks of any kind for touchdowns in the same game.
The Rams, after starting the season 0-5, had gone on a five-game winning streak behind backup quarterback Marc Bulger. But with Bulger and Kurt Warner both injured, they've now lost three straight.
Working behind a patchwork offensive line, where only one man was starting in his normal position, third-stringer Jamie Martin was sacked six times, intercepted twice and lost a fumble that was returned 42 yards for a touchdown by defensive end Duane Clemons.
"We got beat in all three phases of the game," said Bly. "It's like being on a rollercoaster. We get out of the gate 0-5, then we win five straight. Then we go on this streak. We've just got to come back and find a way to keep going and stick with it these last three games."
Holmes' two TDs left him just two shy of the NFL record of 26, which the Rams' Marshall Faulk set in 2000.
Hall, who'd done almost nothing his first two years in the NFL and battled all through training camp for a spot on the roster, is the second man in the NFL this year to score on two kick returns in a game, and the first Kansas City player to ever do it.
"It feels great," said Hall, who had a team-record 90-yard touchdown return of a punt the week before against Arizona. "That's the thing we enjoy, seeing our hard work paying off."
On the Rams' first kickoff, Hall caught the ball at the 12 on the right side of the field, ran upfield a few yards and cut sharply left. Almost every Rams defender was on the right side and Hall sped untouched 88 yards for the Chiefs' first kickoff return for a TD in more than five years.
Midway through the second period, Hall fielded a punt on his own 14 and went left. Shaking off a tackler on the 21, he darted away from the pack and reversed his field, sidestepping a couple of guys and speeding up the right side.
Said St. Louis coach Mike Martz: "You don't want to quote me on what I have to say about special teams. I have never been more (angry) in my life."
Gary Stills got a good block on the final would-be tackler and sprang him for an 86-yard touchdown return.
Hall's kickoff return put the Chiefs on top 7-3, then less than two minutes later, Eric Hicks sacked Martin and knocked the ball out of his hand. Clemons picked it up and ran 42 yards for his first career TD.
It was the worst loss for the Rams since they played in Los Angeles and lost 52-14 to the Chicago Bears in 1963. The Rams got a 36-yard field goal from Jeff Wilkins in the first quarter and an 8-yard touchdown pass from Martin to Isaac Bruce in the second.
Notes: Holmes also caught two passes for 16 yards, giving him 68 catches this season - a new team record for receptions by a running back. Kimble Anders had 67 catches in 1994. ... Cloud's touchdown was his first of the season. ... The Rams lost LB Tommy Polley for the remainder of the season with a sprained ankle. ... Chiefs LB Lew Bush returned from his four-game suspension for testing positive for a banned supplement. He had four tackles on defense and two on special teams. ... The Rams are 0-3 against Kansas City since moving to St. Louis in 1995.
Copyright 2018 The Associated Press. All rights reserved. This material may not be published, broadcast, rewritten or redistributed. We strive to uphold our values for every story published.