Pressed glass is back in favor with collectors, and many pieces are selling for high prices.
At a recent auction, a group of pieces of seldom-seen Monkey glass was offered for sale. Monkey pattern, sometimes called "Monkey and tree," pictures a large seated monkey on the side of the glass piece.
A water pitcher, covered butter dish, creamer, covered sugar bowl, spooner and mug were made with the pattern. There are evidently no goblets or plates.
Experts think the glass might have been made by George Duncan & Sons of Pittsburgh in the 1880s.
Some pieces are clear, and some are made where the monkey is colored with an amber, black or brown stain.
The larger pieces have sold at auction for more than $1,000 each. An 8-3/4-inch Monkey water pitcher sold for $1,350. The water pitcher was priced $37.50 in a 1967 book and $250 in a 1993 book. Prices for pressed glass have been rising.
In 1971, I bought four bentwood side chairs covered in bright-orange paint. I removed the paint and found several markings. The word "Thonet" is impressed in the back edge of each chair's round, solid wood seat. Each chair also has a Thonet paper label. Three of the chairs are stamped "Patented May 1, 1900." Do you have additional information?
Thonet chairs are considered one of the first classics of the modern furniture era. Michael Thonet (1796-1871) was a German furniture maker and designer. In the 1830s he experimented with bending steamed wooden rods to create his furniture. His company, Thonet Brothers (named for his sons), was founded in Vienna in 1853. Thonet Brothers became world-famous for chair frames formed from solid wood rods bent into curves. Thonet's factory used early methods of mass production to manufacture his simple but elegant designs. By 1900, the company had more than 50 assembly-line production factories in Europe. The firm has gone through several mergers, but it is still in business. Several of its early designs remain in production.
My father gave me a Buddy "L" toy truck in the 1930s. The 24-inch electric dump truck is red, green and black. A transformer with a long cord and plug came with the truck. The plug fits into the top of the truck's cab. When you turn it on, the truck goes straight ahead, backs up and makes right and left turns. On both side windows of the cab, there's a decal picturing a robot driving under the words "Buddy 'L' Robotoy." Any information?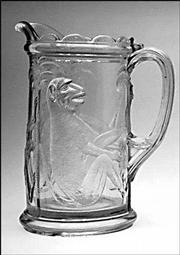 Buddy "L" toys were first made in 1921 by the Moline Pressed Steel Co. of Moline, Ill. Your toy is the only Buddy "L" truck that was electrically powered. The Robotoy truck was sold from 1932 to 1934. If your truck works and is in excellent condition, it could sell for more than $1,000.
I was just given an unusual plate that belonged to my grandmother. I was told that the plate is from the mid-1800s. It is purplish-blue and white, with a border design that's mostly of fruit and flowers. On the top of the border, there's an image of an eye and an open Bible. The middle of the plate shows a child embracing a lion. Other animals are nearby. Above the scene are the words "Peace on Earth," and below it is the phrase "Give us this day our daily bread." The mark on the bottom reads "Millenium." Can you tell me anything about the plate?
Your plate was made by Ralph Stevenson & Son of Cobridge, Staffordshire, England, in the early 1830s. The transfer pattern in the middle of the plate pictures a Biblical scene related to the second coming of the messiah. A transfer pattern was made by " an inked design engraved on copper onto a piece of moistened paper, then onto the plate. The pattern is called "Millenium." It's one of the hundreds of Staffordshire "romantic" patterns made during the mid-to-late 1800s. Your plate sells today for about $250.
I would like to sell a small rocking bathtub I obtained in Germany about 50 years ago. It is made of heavy metal and is marked with a number and the word "Berlin." I was told at the time that only a dozen of these tubs were made. What is the best way to sell the tub?
We suspect that your tub was made for a child. It's an unusual item that is not easy to sell or ship. A local historical museum might be interested in the tub if you would donate it. Otherwise, contact antiques shops, dealers or auctioneers in your area. They might be interested in selling your tub. Placing an ad in an antiques publication or selling it via the Internet would be impractical because of the expense of shipping such a heavy item.
¢
The Kovels answer as many questions as possible through the column. By sending a letter with a question, you give full permission for its use in the column or any other Kovel forum. Names and addresses will not be published. We cannot guarantee the return of any photograph, but if a stamped envelope is included, we will try. The volume of mail makes personal answers or appraisals impossible. Write to Kovels, (name of your newspaper), King Features Syndicate, 888 Seventh Ave., New York, NY 10019.
Copyright 2018 The Lawrence Journal-World. All rights reserved. This material may not be published, broadcast, rewritten or redistributed. We strive to uphold our values for every story published.