It took five games, but Kansas University's women's basketball team finally succumbed to its youth and inexperience.
Three of Kansas' first four victories were close games where the Jayhawks - with four freshmen and two sophomores playing significant minutes - showed poise beyond their years.
In Saturday's title game of the Holiday Inn Jayhawk Classic, though, Kansas committed numerous mental mistakes during critical stretches of the second half before losing, 48-46, to Western Illinois in Allen Fieldhouse.
Kansas led, 30-24, at halftime behind 12 points from Aquanita Burras and nine points from Blair Waltz, but fell apart offensively in the second half.
"When we went into that locker room, all that intensity wasn't there," Burras said. "This is something we have to learn from."
Kansas (4-1) scored just 16 second-half points on 22.2 percent shooting after the break, missing 14 of 18 shots. The Jayhawks also committed a season-high 23 turnovers, with 15 coming after halftime.
"This team has got to be able to respond," Kansas coach Marian Washington said. "They've got to be able to adjust, and that's going to come with time. But when we decide on something that we want to do out there, they have to understand and stay with it. You have one player who forgets, and all of the sudden we're just out of sync."
That lack of discipline hurt the Jayhawks on a night they couldn't get their transition game going. After scoring 16 fast-break points and 32 points off turnovers in Friday's victory against Texas Southern, Kansas (4-1) scored just 19 points off 27 turnovers by Western Illinois and made just two fast-break shots.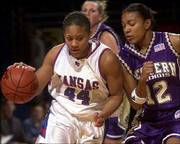 Washington said the Jayhawks, who were playing their first back-to-back games of the season, couldn't get into transition because they didn't have the same intensity they showed in Friday's game.
Kansas didn't have an inside presence on the offense end, either. Ransburg, who was named to the all-tournament team, finished with six blocks and 12 rebounds, but scored just five points. Freshman forward Crystal Kemp, who averaged 13 points and seven rebounds per game before Saturday, scored just one point, grabbed four boards and attempted just one field goal.
"That's our bread and butter," Washington said of Kansas' inside duo. "We won't win a lot of games without them being a very important part. We're going to have to go back to work and get them to become much more active and us working harder to find them."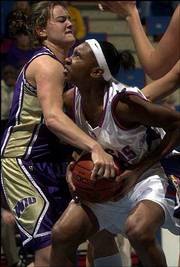 Other than Ransburg's 12 rebounds, Kansas struggled on the boards. The Westerwinds (4-2) outrebounded the Jayhawks, 37-27, and grabbed 17 offensive rebounds. After three straight positive rebounding margins, this was the second straight game the Jayhawks had fewer rebounds than their opponent. Texas Southern outrebounded Kansas, 42-37.
"I was surprised," Ransburg said of the rebounding margin. "I wanted everybody to box out, but not everybody did. We just need to box out more and be physical down low and not let anyone get in front of us."
Burras, who was named the tournament's most valuable player, scored a game-high 19 points. Tugba Palazoglu, who was named to the all-tournament team, led Western Illinois with 17 points.
Notes: Somer Easterwood, a Lawrence High graduate, started for Western Illinois and was scoreless on 0-of-3 shooting. She grabbed six rebounds, had one assist and one steal : Waltz, who sat out the second half of Friday's game because of a stomach virus, scored 11 points : Ransburg now averages four blocks per game, with 20 blocks in five contests : Western Michigan defeated Texas Southern, 86-51, in the consolation game : Other members of the all-tournament team were Western Illinois' Tiffany Cornelius, Texas Southern's Kimberly Davis and Western Michigan's Casey Rost.
Copyright 2018 The Lawrence Journal-World. All rights reserved. This material may not be published, broadcast, rewritten or redistributed. We strive to uphold our values for every story published.