After opening the season with three close victories, Kansas University's women's basketball team finally won a laugher, defeating Texas Southern University, 83-45, Friday in Allen Fieldhouse.
That's not to say that the Jayhawks had an easy time topping the Tigers in their opening game of the Holiday Inn Jayhawk Classic.
Kansas (4-0) scored seven seconds in on a three-pointer by Aquanita Burras, but Texas Southern (3-1) scored the next 10 points and held the Jayhawks scoreless for more than seven minutes.
"I thought Texas Southern really came out and tested us," Kansas coach Marian Washington said. "I thought we came out aggressively, but we didn't knock down many shots."
Burras and reserve forward Nichelle Roberts combined for 16 of the next 26 points, helping Kansas go on a 24-8 run and take a 27-18 lead two minutes before halftime.
Burras, who finished with a game-high 18 points, had another three-pointer during the Jayhawks' run and had two fast-break layups after steals.
Roberts gave the Jayhawks their first lead, 19-18, on the second of back-to-back baskets and had four rebounds in 10 first-half minutes.
"She's done a nice job for us, especially defensively," Washington said of Roberts. "We're really looking to her to help us."
Leading by 10 at halftime, 31-21, Kansas more than doubled up Texas Southern in the second half, 52-24. The Jayhawks used a zone defense and trapping after the break to cut off the Tigers' passing lanes. Kansas forced Texas Southern into 31 turnovers overall, scoring 32 points off the Tigers errors.
"I don't know that we really ran our offense many times because we were able to get out in front," Washington said, "but it was good to see the team be very aggressive."
Washington hadn't been able to get much playing time for Kansas' reserves because the first three games were close, but three Jayhawks came off the bench and played 11 minutes or more against the Tigers.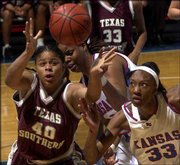 All 12 Jayhawks scored, with Brandi McGinest's 10 points on 5-of-6 shooting leading the reserves.
"It was really good to be able to get them out there and they took advantage of every second," Washington said. "It's just really special to see how they pull for each other."
Starting center Tamara Ransburg scored eight points, grabbed 10 rebounds and blocked five shots for Kansas. She now leads the Big 12 with 3.75 blocks per game.
"I can tell when they're going to shoot because they hesitate, and I just go up," Ransburg said. "Sometimes I do it because I just fly up in the air because I'm off-balance."
Sophomore forward Blair Waltz, who had been suffering from a stomach virus earlier this week, started the game for Kansas, but didn't come out for the second half. Washington said Waltz should be fine to play today.
Kansas faces Western Illinois, an 84-76 winner against Western Michigan in the tournament's first game Friday, in the championship game at 4 p.m. today in Allen Fieldhouse.
Western Illinois 84, Western Michigan 76
The Westerwinds (3-2) gave the Broncos (3-1) their first loss of the season in the tournament's opening game. Tiffany Cornelius had game-highs of 24 points and 11 rebounds for Western Illinois.
Western Michigan had three players with 17 points or more, but scored just 27 first-half points and shot just 64 percent from the free-throw line.
Lawrence High graduate Somer Easterwood, who transferred to Western Illinois last year from Johnson County Community College, started for the Westerwinds, but played just three minutes in the first half with no points and two fouls. She finished with two points on 1-of-4 shooting, a rebound and two assists in 15 minutes.
Western Michigan will play Texas Southern at 2 p.m. today in the consolation game.
Copyright 2018 The Lawrence Journal-World. All rights reserved. This material may not be published, broadcast, rewritten or redistributed. We strive to uphold our values for every story published.