Notre Dame's biggest game of the season is Saturday -- when Washington State plays UCLA in the Rose Bowl. While the outcome decides the Pac-10 champion, it's also likely to determine whether the Fighting Irish are in or out of a lucrative Bowl Championship Series game.
Notre Dame (10-2) completed its season last week with a 44-13 loss to USC, but a UCLA victory against Washington State could land the Irish in the Orange Bowl.
Before that drama plays out in the late afternoon, No. 1 Miami (11-0) needs to beat No. 18 Virginia Tech (9-3) to advance to the BCS national title game in the Fiesta Bowl to play No. 2 Ohio State (13-0) on Jan. 3.
"It's a one-game season now," says Miami coach Larry Coker.
If UCLA (7-4) upends No. 7 Washington State (9-2) on the final day of the regular season, Notre Dame is all but set for the Orange -- and a $13 million payday. The opponent would likely be the winner of Saturday's Big 12 title game between No. 8 Oklahoma (10-2) and No. 12 Colorado (9-3).
A Washington State win drops the Irish from the BCS picture and into the Gator Bowl, which pays each team $1.6 million. North Carolina State (10-3) would be the opponent.
Also, No. 4 Georgia (11-1) plays No. 22 Arkansas (9-3) for the Southeastern Conference title and an automatic BCS bid, probably to the Sugar Bowl.
The final BCS standings will be released Sunday, followed by bowl matchups for the Fiesta, Rose, Orange and Sugar bowls.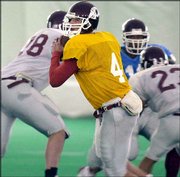 Three of the six conference champions receiving automatic berths have been decided -- Florida State (9-4) in the ACC, Miami in the Big East and Ohio State in the Big Ten.
The Big Ten said this week that co-champion Iowa (11-1) will be one of the at-large picks for a BCS game -- either the Rose or Orange -- but BCS coordinator Mike Tranghese says "that's an assumption on their part." BCS guidelines prevent an official announcement until Sunday.
Based on Miami beating Virginia Tech, here's the way the BCS games shape up:
If Washington State loses to UCLA:
Fiesta: Ohio State vs. Miami.
Rose: USC vs. Iowa.
Orange: Notre Dame vs. Oklahoma-Colorado winner.
Sugar: Florida State vs. Georgia-Arkansas winner.
If Washington State beats UCLA:
Fiesta: Ohio State vs. Miami.
Rose: Washington State vs. Oklahoma-Colorado winner.
Orange: Florida State vs. Iowa.
Sugar: USC vs. Georgia-Arkansas winner.
And now for the games:

Virginia Tech at Miami: The Hokies may have three losses this season, but they usually give the Hurricanes fits. Last season, Miami hung on for a 26-24 win in the season finale. Since 1992, Tech is 5-5 against the 'Canes.

Georgia vs. Arkansas (at Atlanta): Led by quarterback David Greene, Georgia is the top team in the SEC but still has to beat Arkansas for the conference title and automatic berth in a BCS game " the Sugar.

No. 7 Washington State at UCLA: The big question is whether Jason Gesser can play. The Cougars' quarterback is still bothered by a sprained right ankle and bruised knee that sidelined him in the fourth quarter of a 29-26 triple OT loss to Washington on Nov. 23.

No. 8 Oklahoma vs. No. 12 Colorado (at Houston): With top running backs Chris Brown and Bobby Purify doubtful because of injuries, Colorado is hoping a healthy Marcus Houston can come through against a defense allowing 16.3 points per game. OU beat Colorado 27-11 on Nov. 2.
Copyright 2018 The Associated Press. All rights reserved. This material may not be published, broadcast, rewritten or redistributed. We strive to uphold our values for every story published.