College Station, Texas — Dennis Franchione left Alabama after only two seasons to take control as the new coach at Texas A&M; on Thursday.
Erle Nye, chairman of the Texas A&M; board of regents, confirmed Franchione had agreed to a deal with the Aggies.
Franchione leaves Alabama less than a year after the school was hit this year with harsh NCAA sanctions. He replaces R.C. Slocum, who was fired Monday after the Aggies' 50-20 loss to Texas closed out a 6-6 season.
Texas A&M; scheduled a news conference for 8:30 a.m. Central Time today to announce the hiring.
The 51-year-old Franchione and new Aggies athletic director Bill Byrne landed in a private jet at A&M; on Thursday afternoon and strolled down a crimson carpet that had the Aggies' logo on it.
Franchione brushed past reporters, saying, "I'll talk to all of you tomorrow."
Byrne also declined to answer questions.
Franchione -- 25-11 at TCU from 1998-2000 and 17-8 in two years at Alabama " had been noncommittal on his plans in recent weeks.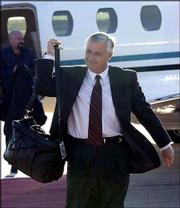 He dismissed reports in Texas newspapers that he would be the Aggies' new coach and called one "idiotic." He said he had "never wavered" on his intentions to return to Alabama next season but never promised he would stay.
"The first week they brought it up, he was just like, 'Don't worry about it. Just focus on the game,"' Alabama center Alonzo Ephraim said. "That's just his personal life. I don't think it will hurt our program."
Mike McKenzie, who edits Franchione's Web site, said Thursday that Franchione told him he planned to have the position coaches notify the Crimson Tide players and he wouldn't return to meet the team.
continued from page 1c
Franchione's deal caps a tumultuous week at A&M;, beginning with Slocum's firing and the hiring of Byrne on Tuesday.
Nye said the school and Franchione had agreed to many terms of a contract, including duration and salary.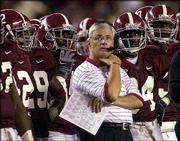 The A&M; board of regents has proposed a five-year contract for Franchione to take control of the Aggies' football program, the Houston Chronicle reported. The offer to Franchione was believed to be worth $10 million to $11 million.
Despite a 10-3 record this season, Alabama isn't eligible for a bowl game because it is on NCAA probation due to recruiting violations that took place before Franchione was hired.
Franchione met for about three hours Wednesday with Alabama athletic director Mal Moore and members of the Alabama board of trustees, then left without commenting.
Franchione canceled speaking engagements Wednesday night in Columbus, Ga., and on Thursday in Montgomery, Ala.
Moore said he granted A&M; officials permission to talk to Franchione but wanted the coach to stay with the Crimson Tide.
Franchione's Alabama contract was through 2007 at $1.1 million per season plus incentives. He was offered an extension reportedly worth $15 million over 10 years.
A&M; will be Franchione's seventh stop as head coach. He has spent three years or less at four of those schools.
Franchione began his head coaching career in Kansas. He was 14-4-2 in two years at Southwestern before compiling a 53-6-1 record in five years at Pittsburg State. He also was head coach at Southwest Texas State and New Mexico before going to TCU in 1998.
Slocum, who has spent all but one season since 1972 on the A&M; coaching staff, has three years remaining on a seven-year contract worth $1 million annually.
Texas A&M; president Robert Gates said Slocum accepted an offer to remain at the university as his special adviser.
Copyright 2018 The Associated Press. All rights reserved. This material may not be published, broadcast, rewritten or redistributed. We strive to uphold our values for every story published.