Toronto — Alfonso Soriano can't help being reminded that he may become the only second baseman in major league history to post a 40-40 season.
Soriano homered twice, leading substitute starter Jeff Weaver and the New York Yankees over the Toronto Blue Jays 9-7 on Friday night.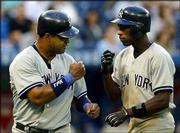 Soriano, already the first second baseman in major league history to have a 30-30 season, hit his 33rd and 34th homers. He stole his 36th base in the first inning.
"I'm not thinking about 40-40, but you know I hit two homers today and there's one month left," said Soriano, who would join Jose Canseco and Barry Bonds and Alex Rodriguez as the only other players to accomplish the feat.
The 24-year-old second-year player said he's tries to avoid thinking about it.
"I don't think it because when I had 29 home runs, I thought a little bit about 30-30 and I didn't hit a homer for a couple of games," Soriano said.
Soriano, who went 3-for-5, hit a two-run homer off Pete Walker (7-4) in the second and a solo shot off Scott Cassidy in the ninth.
Rookie Josh Phelps tied a career-high with four RBIs for the Blue Jays, who trailed 8-0 at one point. On Thursday night, Phelps homered twice off Yankees ace Roger Clemens.
"I'm very impressed with the way he goes about his business," Toronto manager Carlos Tosca said. "He's hitting the ball real well right now."
Toronto's Eric Hinske tied a career-high with four hits.
Weaver (8-11) filled in for Andy Pettitte, who was scratched because of a stiff back.
Red Sox 15, Indians 5
Cleveland Brian Daubach and Trot Nixon each homered and drove in four runs and Derek Lowe earned his 18th win.
Cliff Floyd had two RBIs for the Red Sox, who gathered at Fenway Park in Boston at 7:30 a.m. for the trip to Cleveland.
Lowe (18-6) allowed three hits and two walks in five scoreless innings. He was helped by two double plays, recorded 12 outs on grounders, and continued his career mastery of Cleveland, improving to 3-0 with a 1.88 ERA against the Indians.
"I didn't win the game, the offense did," Lowe said. "I just pitched on the right day like I have all year."
The Red Sox have totaled 146 runs in Lowe's 18 wins, an average of 8.1, and scored 10 or more runs in five of his victories.
White Sox 4, Tigers 3
Detroit Dan Wright allowed three hits in seven innings and Josh Paul hit a tiebreaking single in the seventh.
Wright (10-11) walked four and struck out four. Damaso Marte pitched two innings for his seventh save, allowing a solo homer to Carlos Pena with two outs in the ninth.
Mike Maroth (5-6) allowed four runs and nine hits in 623 innings to take the loss for Detroit.
With the scored tied 2-2, Joe Crede led off the seventh with a double and was sacrificed to third by Royce Clayton. Paul's single scored Crede and gave Chicago a 3-2 lead. Aaron Rowand's RBI single gave the White Sox an insurance run.
Chicago went ahead 2-1 in the fourth on Crede's sixth homer of the season.
Athletics 4, Twins 2
Oakland, Calif. The A's extended the majors' longest winning streak in 25 years to 16 games Friday night, behind Ray Durham's four hits.
Eric Chavez drove home an unearned run to break a fifth-inning tie as the A's followed a 10-0 road trip by moving within one victory of the franchise-record 17-game streak by the 1931 Philadelphia A's.
They've won more games in a row than any team since 1977, when the Kansas City Royals won 16 straight.
Durham led off the game with a homer, doubled twice and kept two rallies alive with hits.
The A's starters have won 15 of the 16 games in the streak, but Tim Hudson (12-9) was shaky in Oakland's first home game since Aug. 18.
Hudson allowed eight hits and struck out seven to win his fifth straight decision. Billy Koch pitched the ninth for his 36th save in 41 chances.
Devil Rays 9, Rangers 7
Arlington, Texas Aubrey Huff and Steve Cox each homered and had three hits. Alex Rodriguez hit his major league-leading 48th homer and Rafael Palmeiro hit his 485th career home run.
Angels 6, Orioles 2
Anaheim, Calif. Rookie Mickey Callaway held Baltimore hitless until the sixth inning and Darin Erstad homered. Mike Bordick hit a two-run homer, his sixth. Callaway (1-0) struck out five.
Copyright 2018 The Associated Press. All rights reserved. This material may not be published, broadcast, rewritten or redistributed. We strive to uphold our values for every story published.