Des Moines, Iowa — Get over it. Move on.
Iowa State coach Dan McCarney says it's time to put aside the debate over whether Seneca Wallace scored on the next-to-last play of the Cyclones' 38-31 loss to Florida State and concentrate on Saturday's home game with Kansas.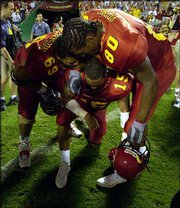 It's the first Big 12 game of the season and the first for new Kansas coach Mark Mangino.
"To me it's not hard to get past it when we turn around and play our Big 12 opener," McCarney said. "We'll either be 1-0 in the Big 12 and in first place for the next month or 0-1 and in last place for the next month.
"I think it's very easy for us to put it behind us."
McCarney said he's confident his players feel the same way.
"I can assure you they have great respect for Kansas," he said.
Still, McCarney couldn't avoid the debate during the Big 12 conference call.
A reporter asked if McCarney thought Wallace had scored at the end of a 20-yard scramble with four seconds left. The official ruled Wallace was out of bounds as he tried to stretch the ball across the goal line.
"From the tape we've seen there wasn't any question he scored," McCarney said. "It doesn't do any good now, but the TV, the end zone, the sideline (views) showed his foot was clearly in bounds and the ball was across the goal line. It should have been a touchdown.
"But appeals don't do any good. I'm not going to waste any time with it. I'm just giving you an honest answer to the question."
Wallace was tackled on the one-yard line on the final play. If he had scored either time, McCarney said he probably would have gone for two points to try to win the game instead of kicking for a tie and going into overtime.
"The protection on our PATs and field goals was ridiculous," McCarney said. "I didn't feel good about kicking the extra point. We almost had three or four blocked. Obviously, that's one of the things we've got to get shored up."
Adam Benike made all four of his extra point kicks Saturday night and kicked a 33-yard field goal. The Cyclones' other placekicker, Tony Yelk, had a 50-yard field goal attempt blocked.
Mangino, formerly an assistant at Oklahoma and Kansas State, said he thought Iowa State should have won the game.
"I just felt Iowa State picked up the momentum in the second half, made some plays, did some things in the passing game and had chances to win the game," Mangino said. "The game ends down there on the one-yard line. It's a shame it didn't end up in Iowa State's favor."
So did he think Wallace got in?
"That's debatable," Mangino said. "It's possible he was. I couldn't tell from the angles I watched."
McCarney said Hiawatha Rutland has regained the starting tailback job from Michael Wagner, who beat out Rutland in preseason practice. Rutland carried 17 times for 93 yards and scored on a 36-yard run. Wagner had 19 yards in eight carries.
"I told you going in both would play and if one got hot and got going, that's who would be the next starting running back," McCarney said.
Iowa State and Kansas both have assistant coaches who came from the other's staff. ISU associate head coach Terry Allen was fired last November as Kansas' coach. Kansas offensive coordinator Nick Quartaro had been an assistant at Iowa State.
McCarney sees no advantage for either team.
"Terry knows their players inside out, Nick knows our players inside out," he said. "Both of us will get our best scouting reports all year long on personnel."
Copyright 2018 The Associated Press. All rights reserved. This material may not be published, broadcast, rewritten or redistributed. We strive to uphold our values for every story published.