It's not Batman. It's not baseball bats. It's not even bats in the belfry.
It is the flying American bat hiding in caves long feared and misunderstood that is featured on a new set of four stamps to be issued by the U.S. Postal Service.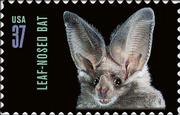 Depicted on the set are: the red bat (found throughout North America except in south Florida), the pallid bat (found in western North America, primarily in desert surroundings), the spotted bat (found in the western United States and Mexico where its diet is moths) and the leaf-nosed bat (found in caves or abandoned mines in California, Nevada and Arizona).
The only true flying mammals, bats long have been feared but really are beneficial to humans. They help balance populations of night-flying insects including mosquitoes. Contrary to one popular myth, bats are not blind; many have superb night vision.
Also, contrary to myth, contracting rabies from bats is a remote threat. According to Bat Conservation International, an organization dedicated to protecting and restoring bats and their habitats worldwide, bats account for an average of only 1.5 human deaths annually in the United States.
The photos on the stamps were taken by Dr. Merlin D. Tuttle of Bat Conservation International. He emphasized that the bats were released unharmed after being photographed.
Copyright 2018 The Associated Press. All rights reserved. This material may not be published, broadcast, rewritten or redistributed. We strive to uphold our values for every story published.