For many people, the mention of a football kicker brings to mind an image of a scrawny guy who wouldn't dream of recording a tackle.
Kansas University's Johnny Beck is doing his best to destroy that stereotype.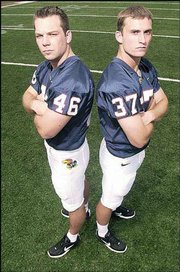 Beck, a 220-pound sophomore from Kansas City Piper High, has added 15 pounds to his 6-foot-1 frame since last season. He said he was in better physical condition than last year when he made 14 of 20 field-goal attempts and 16 of 17 extra points.
"It's not usual for a kicker to put on a lot of pounds," Beck said, "but I feel it can't hurt me any and all the conditioning we're doing will put me in better shape and make me a lot more flexible, which will hopefully help me out in the long run."
Kansas coach Mark Mangino said Beck's increased strength and size might fool some opponents.
"When he takes the field, opponents are going to think he's a linebacker," Mangino said. "He has got to be the most physical-looking kicker in the conference maybe in America.
"I'm still thinking about putting him out there at linebacker."
Although Beck knows his coach was just joking, he said he wouldn't mind getting a few shots at kick returners or anyone else carrying the ball.
"I told him that if I didn't do kickoffs to put me on the kickoff (coverage) team," Beck said. "I'm ready to play any position at any time. It'll never happen, but it makes me better to go out there and have the return man kind of respect me a little more."
Beck's main asset his kicking power may not give many return men a chance. Nine of his 39 kickoffs last season were touchbacks.
That leg strength is useful on field goals, too. Beck was 9-of-12 on field-goal attempts of more than 40 yards last year, including a 52-yarder against UCLA and a 59-yarder against Colorado, the second-longest field goal in KU history.
"Given the opportunity and the right conditions, Johnny can hit one from 60-plus yards," special teams coordinator and running backs coach Clint Bowen said. "I don't know how many times I've seen him hit 60-plus-yard field goals in practice. It's just a matter of getting a game chance to do it."
Both of Beck's 50-plus-yard field goals were part of his seven consecutive made field goals at the start of last season. After making 10 of his first 11, though, Beck hit just five of his final nine, including three from inside 40 yards.
"Johnny feels better about going to kick a 40-yard field goal than he does a 20-yard field goal," Bowen said, "because he knows he can just unleash on those. He's getting more comfortable with shorter distance kicks and making it so that every single kick is the same."
Beck agreed that he prefers longer kicks, but said that he knows he needs to work hard on making shorter ones.
"If it's under 40 yards, they expect me to make it," he said. "I think that's one of the main things I need to go in and do this year hit every field goal under 40 yards. Of course, my expectation is to hit every field goal.
"I shoot for making every kick, and, if I don't, I bounce back and make the next one. I think the main thing is not missing two in a row."
Beck will need to make those shorter kicks and avoid too many consecutive misses if he wants to make good on his preseason nomination for the Lou Groza Award, which goes to the nation's best Div. I kicker.
"I think it brings a little bit of tension to every kick when I go out on the field," Beck said of the nomination, "but I like being in the spotlight. I like going out there and making every kick seem like it's important. Hopefully, I'll get picked to be a finalist."
The nomination already has done some good, quieting some good-natured ribbing from friends back in Kansas City.
"We were playing a new college football video game a lot of my buddies at home are into that and my rating's real low on it," Beck said with a laugh, "so they were giving me some heck about that. Then I got the award nomination and it kind of boosted my confidence. It's a great honor."s
Copyright 2018 The Lawrence Journal-World. All rights reserved. This material may not be published, broadcast, rewritten or redistributed. We strive to uphold our values for every story published.