Has Winston Cup racing suddenly gone old school again?
Eight of the past 12 races going into Saturday's Sharpie 500 at Bristol Motor Speedway have been won by drivers 39 or older. The top two drivers in the Winston Cup points standings are 45-year-old Sterling Marlin and 43-year-old Mark Martin. And four other drivers who are 45 or older are among the top 10 drivers in the standings.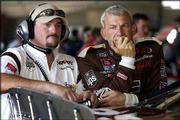 It seems NASCAR's veterans have decided to teach the sport's "young guns" a thing or two.
Or maybe it's the other way around. That's what Dale Jarrett said last week after winning the Pepsi 400 at Michigan International Speedway his second victory of the season.
"I think you have to say that some of the older guys might have changed some things, along with their crew chiefs, in looking at ways we used to do things," Jarrett, 45, said. "Those things don't work any more."
Jarrett dominated a caution-free race at Michigan in 1999, but he said the car he was driving Sunday was set up so differently from the 1999 car that it was "scary to think about."
The biggest differences are in the aggressive shock absorber-spring combinations that younger drivers and their crew chiefs used with so much success earlier this season. Those combinations have forced veteran drivers and crew chiefs like Jarrett and his crew chief, Todd Parrott to realign their thinking.
"I quit thinking about what these springs look like if I write it down on a piece of paper," Jarrett said. "It makes you think ... you're going to spin out. But I know that's the type of setup we have to run."
Jarrett's victory Sunday was the fourth straight oval-track win by a veteran this season. Ward Burton, 40, won at New Hampshire and Bill Elliott, 46, won at Pocono and Indianapolis.
"I think in Bill Elliott's case, they changed from what they had and realized they had to be a lot more aggressive," Jarrett said. "Todd and I have done the same thing."
Parrott said he used to take so many notes from past races with him to each track that it took him two trips from his office to a file cabinet in the team's transporter to carry them all.
"Now I can get on the airplane with one bag and I've got enough notes to get me through a weekend," Parrott said after the Michigan win. "I don't bring them. Things have changed so much."
Parrott said the only notes with any relevance to last weekend's race at Michigan were the ones he took when the circuit raced there on June 16.
"Notes from the two races last year were on the truck, but I never even opened them up and looked at them," he said.
Parrott said his Robert Yates-owned team got off-base earlier this year, and that led to a slow start to the season for the No. 88 Ford team.
Jarrett had just one top-10 finish in the first seven races, but has 10 since, including victories at Pocono in June and Sunday at Michigan.
"You have to be aggressive, but you have to be smart," Parrott said. "You have to understand your chassis, your aero balance, the tires and know all aspects of everything that's going on, and use it to your advantage."
And part of that is having a driver who can combine his experience with the ability to accept and adapt.
"Dale's done a fantastic job of adapting," Parrott said. "Nine times out of 10, I'd rather have a guy with a whole lot of experience than the guy who's really aggressive."
Jarrett, Elliott and 45-year-old Ricky Rudd have combined to win five of the past 10 Winston Cup races. That's a remarkable statistic considering only 72 races in Winston Cup history just 3.7 percent of the 1,970 races in which the winner's age has been documented have been won by drivers 45 and older.
Jarrett said it's all about figuring out how to win, no matter what your age.
"We've changed the bodies on our cars," he said. "We've changed the setups. We haven't just stuck with one thing. We've done what the car is asking for and what it takes to win."
Copyright 2018 The Lawrence Journal-World. All rights reserved. This material may not be published, broadcast, rewritten or redistributed. We strive to uphold our values for every story published.