Milwaukee — Once again, Milwaukee Brewers fans sat inside and got all wet.
With rain pouring through Miller Park's leaky roof, Bobby Abreu homered and drove in four runs as the Philadelphia Phillies beat the Brewers 13-3 Wednesday night.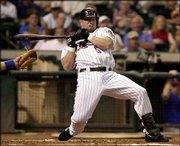 A severe thunderstorm hit the area in the fifth inning, and rain poured through the roof just as it did during the Home Run Derby at last month's All-Star game.
"It's obviously very disappointing and troublesome to us to have that kind of water in the park," said Scott Jenkins, vice president of stadium operations. "The (stadium board) district is committed to finding ways to improve the situation. We don't know what that is yet. It's obviously unacceptable."
The fan-shaped roof at the $400 million ballpark has five retractible panels, which have had problems handling a driving rain.
Winds of 65-70 mph blew the protective flashings out of place Wednesday, allowing rain to cascade into the stands behind home plate and on the right side of the infield.
Astros 4, Cubs 0
Houston Carlos Hernandez scattered four hits over six innings, pitching Houston over Chicago.
Hernandez (6-4), starting for the second time since returning from the disabled list on Sunday, beat Chicago's Mark Prior in a matchup of rookie starters.
Hernandez tied a career high with eight strikeouts and walked three.
Prior (6-4) pitched 4 2â3 innings, giving up four runs on 12 hits. He struck out three and walked two.
Cardinals 4, Pirates 1
St. Louis Chuck Finley struck out 10 in eight innings and Scott Rolen hit a two-run triple. The Cardinals scored all their runs off Josh Fogg (11-9) with two outs. Jim Edmonds walked on a 3-2 pitch with the bases loaded for the game's first run in the third and Albert Pujols hit an RBI single before Rolen's fourth triple in 20 games gave the Cardinals in a three-run fifth.
Braves 6, Padres 3
San Diego Gary Sheffield drove in five runs on two homers and a double against his former team. Sheffield went 3-for-3 and walked twice.
Giants 3, Mets 1
San Francisco Kirk Rueter pitched five-hit ball for eight shutout innings. Rueter (11-7) faced the minimum 15 batters through five innings, retiring 11 straight at one point. Robb Nen finished for his 30th save in 37 chances.
Diamondbacks 11, Reds 3
Phoenix Curt Schilling won his major league-best 21st game, striking out nine in seven innings. Steve Finley doubled, tripled and singled in his first three at-bats and drove in three runs. He had two chances to complete the cycle with a home run but struck out in the sixth and flied out to right in the eighth. Schilling (21-4) allowed two runs on five hits.
Expos 13, Rockies 5
Denver Brad Wilkerson hit two of Montreal's season-high six home runs. Vladimir Guerrero, Jose Vidro, Wil Cordero and pinch-hitter Matt Cepicky also homered for the Expos, who climbed back to .500.
Dodgers 4, Marlins 3 (10)
Los Angeles Shawn Green hit a game-winning RBI double in the 10th after Eric Karros tied it in the ninth. Mike Kinkade homered for the Dodgers. Paul Shuey (2-2) pitched a hitless 10th for the victory.
Copyright 2018 The Associated Press. All rights reserved. This material may not be published, broadcast, rewritten or redistributed. We strive to uphold our values for every story published.