New York — The Anaheim Angels aren't letting a possible work stoppage spoil baseball's best division race.
Scott Spiezio hit a two-run homer in the 11th inning and the Angels matched last year's victory total and remained in first place in the AL West by beating the New York Yankees 5-1 Wednesday.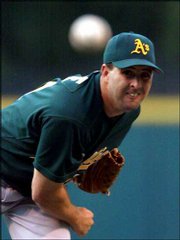 "In the division we're in we have to win every game," said David Eckstein, who matched his career high with four hits. "We are competing with two top teams that win almost every day. So we have to win whether season ends Aug. 30 or Sept. 29."
The Angels (75-50), who began the day two percentage points ahead of Oakland and Seattle in the AL West, haven't made the postseason since 1986.
Anaheim has won eight of 10 and has the best record after 125 games in franchise history one game ahead of the 1989 team.
Brad Fullmer led off the 11th against Jeff Weaver (7-11) with a blooper to shallow left field. John Vander Wal couldn't get to it and the ball took a crazy hop past him for a double.
After fouling off a bunt attempt on the first pitch, Spiezio hit an 0-2 fastball over the right-field wall for his eighth homer of the season.
"One thing I've learned over the years is when you mess up you still have two more chances," Spiezio said. "You have to wipe the slate clean out of your mind and still try to get him over. I got him over, just not the way I had in mind."
Athletics 6, Indians 0
Cleveland Cory Lidle allowed one hit a first-inning single and extended his scoreless innings streak to 31 Wednesday night.
Lidle (7-9) gave up only a two-out single in the first to Ellis Burks. After walking Jim Thome, the right-hander didn't allow another runner.
He walked one, matched a career-high with eight strikeouts and earned his second career one-hitter and shutout.
He also blanked Texas on July 19.
After his walk to Thome, Lidle retired 25 straight 14 on grounders. He has not allowed a run in four August starts, and has been on the mound in each of Oakland's last five shutouts.
Terrence Long hit a three-run homer for Oakland, which remained in a virtual tie for first place in the AL West, two percentage points behind Anaheim.
"I don't know if words can describe how well he pitched," A's manager Art Howe said. "He changed speeds, he threw everything for strikes. Just a clinic on how to pitch."
Lidle wasn't quite as impressed.
"I guess without the two guys getting on in the first, it was a pretty good game," he said.
The A's nearly dealt the 30-year-old starter last month. But he's still around, and things are going so well that he was asked to compare his one-hitters.
"I didn't think I would ever be doing that," said Lidle, who went 1-6 in his first 13 starts. "I've always been a guy who gave up a lot of hits. I'm glad they decided to keep me here."
Orioles 2, Devil Rays 1
Baltimore Rodrigo Lopez pitched eight innings of five-hit ball, and Jerry Hairston drew a bases-loaded walk in the seventh inning.
Jay Gibbons homered for the O's, who managed only five hits against Victor Zambrano (5-5) and Esteban Yan. Lopez (14-5) struck out five and walked one.
Jorge Julio started the ninth by retiring Randy Winn on a fly ball before Carl Crawford reached on Geronimo Gil's passed ball on strike three. Julio then walked Aubrey Huff and Jared Sandberg before giving way to Buddy Groom, who retired Steve Cox on a double-play grounder for his second save.
Mariners 8, Tigers 2
Detroit Ismael Valdes was impressive in his Seattle debut, and the Mariners broke open a close game with five runs in the ninth inning.
Valdes, acquired in a trade with Texas on Sunday for two minor leaguers, allowed two runs and five hits in six-plus innings. He struck out three and walked one.
Leading by one run in the ninth, Seattle got a bases-loaded triple by Carlos Guillen and a two-run homer from Ben Davis to make it 8-2.
Mike Cameron homered off knuckleballer Steve Sparks (8-12) for the Mariners, who had lost the first two games of this four-game series.
Valdes (7-9) allowed only a walk to Carlos Pena in the first three innings.
White Sox 10, Twins 1
Chicago Jose Valentin homered in his first two at-bats and drove in five runs as the White Sox roughed up Joe Mays and the Minnesota Twins to snap a six-game losing streak.
Mark Buehrle (16-9) scattered seven hits over seven innings to improve to 4-0 against the Twins this year, and rookie Willie Harris went 3-for-4 with a solo homer. Magglio Ordonez went 3-for-5, including a solo shot in the eighth.
Mays (2-5) had never lost to the White Sox in 11 career outings, but he lasted only two innings after getting hit on the right thumb by a batted ball. Of the five earned runs he allowed, four came after he got hit. He has a bruised thumb.
Red Sox 5, Rangers 3
Boston Nomar Garciaparra had four hits, including a tiebreaking two-run single in the eighth inning, to lift Boston over Texas.
The Red Sox, who have won only twice in their last six games, remained 3 1â2 games back in the AL wild-card chase.
Kevin Mench opened the game with a homer for Texas, which had a five-game winning streak snapped.
Copyright 2018 The Associated Press. All rights reserved. This material may not be published, broadcast, rewritten or redistributed. We strive to uphold our values for every story published.