San Diego — A neighbor was convicted Wednesday of kidnapping 7-year-old Danielle van Dam from her home and killing her in the first of a string of brazen child abductions that have drawn national attention this year.
Danielle's mother burst into tears and a crowd outside the courthouse cheered as the jury convicted self-employed engineer David Westerfield of murder, kidnapping and possessing child pornography.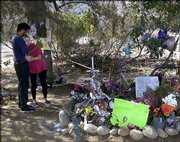 Westerfield looked at the jury but showed no obvious reaction; the 50-year-old faces either life in prison or execution when the trial's penalty phase begins next week.
The parents, jurors and trial attorneys remain under a gag order and couldn't comment on the verdict.
The jury deliberated for about 40 hours over 10 days after a lurid trial in which the defense suggested that the lifestyle of Danielle's parents, including spouse-swapping and marijuana use, put her at risk.
Prosecutors had argued that drops of the victim's blood on Westerfield's jacket amounted to a DNA-backed "smoking gun" that jurors couldn't ignore.
Danielle disappeared from her home sometime after her father put her to bed on Feb. 1. Her nude body was found along a rural road nearly a month later, too decomposed to determine even how she died or whether she was sexually assaulted.
Westerfield, who lived two houses away from the van Dams, left on a meandering trip in his motor home the morning her family reported she was gone and police and volunteers began searching the neighborhood.
He was placed under surveillance and eventually arrested after investigators learned he had been at the same bar as Danielle's mother and two of her friends the night the girl vanished.
"Those who are close to the family have chosen to defer comment or reaction until the van Dams can speak for themselves," Sara Fraunces, the parents' spokeswoman, said after the verdict.
Westerfield's sister wept and shook her head as she sat two rows behind him.
"I am in shock. I am just in shock," said David Neal, a former brother-in-law of Westerfield. "He thought he was going to get off."
Outside the courthouse, Jeri Fortier, 58, was among the crowd that erupted in applause when the verdicts were read.
"There was a mountain of evidence against Westerfield. He was obviously guilty," Fortier said.
Sabre Springs, the neighborhood where Danielle lived, was quiet except for a gathering of reporters. Across the street from Westerfield's home someone posted a sign that read: "Please NO media. Thank you."
"I wanted to cry. I'm glad that they found somebody guilty and that we can all rest and feel a little more safe in the neighborhood," said resident Vicki Sanders.
Danielle's slaying led a year of high-profile abductions of children, including Elizabeth Smart, 14, in Utah; Samantha Runnion, 5, in Orange County, Calif.; Cassandra Williamson, 6, in Missouri; and Jennifer Short, 9, in Virginia.
Elizabeth and Jennifer remain missing. Samantha and Cassandra were found dead.
Copyright 2018 The Associated Press. All rights reserved. This material may not be published, broadcast, rewritten or redistributed. We strive to uphold our values for every story published.