Fairfax, Va. — After a long walk uptown to escape the unfolding disaster Sept. 11 at the World Trade Center, Lisa Beaty made her way to a Manhattan office, sat down in front of a computer and e-mailed two words that friends and relatives were anxious to see: "I'm OK."
That message and hundreds of other e-mails, photographs and video images are part of a virtual library of the attacks being compiled by scholars in Virginia and New York.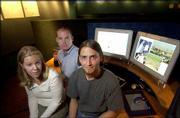 The September 11th Digital Archive "will serve as a new platform in which people can make their own history," said Jim Sparrow, one of the organizers of the project, which is accessible online.
Chrissie Brodigan, a graduate student working with Sparrow on the site at the Center for New Media and History at George Mason University in Fairfax, Va., said the goal was to create a national memory of the attacks.
Sparrow and his colleagues at George Mason, which is about 20 minutes west of the Pentagon, started the project in January by visiting victims and families in New York, Washington and Shanksville, Pa., where one of the four hijacked planes crashed.
Since then, the researchers have collected hundreds of e-mail and chat room messages, photos and online personal diaries from people nationwide relating to their Sept. 11 experiences.
Also sought are text messages transmitted by beeper that day from people trying to reassure friends and loved ones.
Beaty and her husband, Kirk, already had spoken by phone after the attacks started. At 12:18 p.m., more than three hours after the first plane struck the World Trade Center, she sat at a computer and wrote the e-mail that would be relayed to worried friends and relatives.
After telling them she was all right, she detailed the chaos:
"Had I made the train I was trying to this AM, I would have been in the WTC when the plane hit. Pays to be late sometimes," she wrote.
"Was standing next to some people that were in the building across from the Tower they saw the (first) plane hit and then saw people jumping out the windows. It was absolutely the most horrible thing I have ever witnessed in my life."
Projects like the archive represent a new way to take snapshots of historical events and record how America reacts to them, said Lee Rainie, director of the Pew Internet and American Life Project.
Dozens of other sites have similar functions, though few store e-mails or text messages, as the digital archive does, Rainie said.
For instance, a separate site, The September 11 Web Archive, tracked and stored government, media and other Web pages related to the attacks as they were viewed on Sept. 11 and in the months after.
"One of the learning experiences from Sept. 11 is that the Internet is a great way to catalogue and pull together these communications shortly after they occur," Rainie said. "Almost any major news event that occurs in the future, you will see similar sites develop."
Copyright 2018 The Associated Press. All rights reserved. This material may not be published, broadcast, rewritten or redistributed. We strive to uphold our values for every story published.