New York — Brian Palmer knew opening a restaurant was not for the faint of heart, and the risks became even more formidable when terrorists struck the World Trade Center just before his Harlem bistro was scheduled to open.
Native opened two months late, and Palmer was relegated to cooking salmon and steaks on hot plates because utility workers and contractors were busy at the trade center. With banks skittish, he faced financing problems; with tourism plummeting, he watched his customer base erode.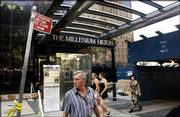 Now, Palmer is nearly out of money.
His struggles are testament to the destructive arc of a disaster that killed more than 2,800 people, poked a giant hole in the city's economic bubble and contributed to everything from city government's $5 billion deficit to troubles on Broadway.
Economists estimate the attack cost the local economy more than $80 billion from property damage to lost tax revenue and some 97,500 jobs. Only about 40,000 of those jobs are expected to be recovered by the end of 2003, according to the New York City Partnership, a business advocacy group. New York's unemployment rate is now 7.7 percent.
"The economy is very fragile," said Kathryn Wylde, president and CEO of the business group. "It has been improving, but the improvements have occurred slowly."
Already slowing
Even before Sept. 11, the economic dynamo that had created 160,000 jobs in 1999 and 2000 had slowed, with some companies resorting to hiring freezes and layoffs. The city faced deficits due to a faltering stock market and tax cuts enacted during the boom years of former Mayor Rudolph Giuliani.
But tourism was enjoying another record year. SoHo clothing stores and Tribeca restaurants were able to turn away potential customers.
And despite the slowdown, Wall Street the city's economic motor was forecasting more than $8 billion in annual profits.
The attack changed everything. Potential visitors stayed away, sending tourism skidding 15 percent. Hotel occupancy and business spending each dropped 14 percent. Tourism, a $25 billion industry, has only begun to recover in recent months.
The downturn was a particularly blow to retail sales and cultural activities, including Broadway.
After unprecedented success in the 1990s, Broadway shows suffered as tourists bought discounted passes instead of full-priced advance tickets. Several successful shows have closed because of the uncertainty of advance sales, and some producers are wondering whether investing in Broadway makes sense.
"If this is permanent, it's really going to change the fundamental finances of many shows," said Jed Bernstein, president of the League of American Theaters and Producers.
A shortage of out-of-towners hurt institutions from the Metropolitan Opera, which watched audiences decline by 7.5 percent, to the Whitney Museum, which laid off 14 people and canceled an Eva Hesse retrospective.
At the Metropolitan Museum of Art, attendance has dropped 20 percent. "We were impacted hugely," spokesman Harold Holzer said. "Attendance plummeted. Now it's building back slowly. We are optimistic with fingers and toes crossed."
Wall Street's wreck
Wall Street, which had dozens of companies headquartered in the twin towers, shed 26,500 jobs after the attack an alarming figure given that each Wall Street job supports 1.2 other workers, from bankers to bike messengers.
Analysts say that securities and banking firms are unlikely to return to lower Manhattan with the number of people they employed before Sept. 11.
The commercial vacancy rate downtown has more than doubled to 15.2 percent in recent months despite the loss of 11 million square feet of business and retail space in the trade center.
Financial firms move
Morgan Stanley Dean Witter recently announced it will move 2,000 jobs to Westchester County, north of the city. And Cantor Fitzgerald, which lost 658 employees in the attack, has hired just 150 people. All firms are being buffeted by the stock market.
The city and state have offered millions of dollars to businesses with more than 200 employees in return for a pledge to stay in lower Manhattan for at least seven years. But the program has had mixed success, with many firms declining public aid that would also bar them from imposing extensive layoffs.
"The fundamental problems facing lower Manhattan are not solvable with handouts," said Mitchell Moss, director of the Taub Urban Research Center at New York University.
For example, the attack destroyed key subway and commuter transit hubs, making travel difficult in lower Manhattan.
Some recovery
During the past few months, however, the city has added 10,000 jobs and federal financial incentives have drawn people to buy and rent apartments downtown. There is evidence of recovery in unlikely places, too.
The Ritz-Carlton Hotel opened in January, its 298 rooms starting at $465 a night. Rooms to the south feature a view of the Statue of Liberty. Rooms to the north look out on the trade center site.
Eight months later, the hotel is averaging more than 75 percent occupancy, higher than the citywide median.
Above the hotel, condominiums starting at $600,000 are selling again. Though 15 buyers dropped out immediately after Sept. 11, the building made up the sales between March and July.
"Obviously, 9-11 did put a damper on our program," said spokesman Matt Hall. "We took a big step backward. But now we're back again."
Copyright 2018 The Associated Press. All rights reserved. This material may not be published, broadcast, rewritten or redistributed. We strive to uphold our values for every story published.