Toronto — A well-rested Pete Walker gave the Toronto Blue Jays just what they needed.
Walker pitched two-hit ball for seven innings and Toronto stopped a five-game losing streak with a 2-0 victory against the Kansas City Royals on Monday night.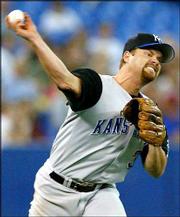 Walker flew from Texas to Toronto before the rest of the Blue Jays, who experienced some scary moments on their plane early Monday morning.
The team's charter had to dump fuel and land because the cabin pressure was off. The plane later attempted to take off, but the pilot aborted the takeoff because of the same problem. They later took off successfully, but the Blue Jays arrived in Toronto just before 6 a.m., approximately 21â2 hours later than planned.
"These guys had a really long trip and I was the only one that got to come back early, so I think I had no choice but to pitch well," said Walker, who was in bed by 11 p.m. "The last thing they need was for me to go two or three innings and get knocked out, so I was really focused and I felt confident that I was going to go deep into this game."
Walker (6-3) only allowed a single to Michael Tucker in the second inning and a double by Raul Ibanez in the fourth. The 33-year-old journeyman right-hander retired the last 11 batters he faced. He struck out three and walked two.
"That was a fantastic job by him," Toronto manager Carlos Tosca said. "That's exactly what we needed."
Shannon Stewart homered, scored twice and made a nice over-the-shoulder catch at the left-field wall.
"We only got a couple of hours of sleep. It was tough for us, but we battled and we won," Stewart said.
Paul Byrd (14-9) lost despite pitching a four-hitter for his AL-leading sixth complete game. He gave up only one earned run, but fell short in his fourth attempt at his 15th victory.
Byrd also was hurt by poor defense. Shortstop Neifi Perez made two errors for Kansas City.
"I'm having a little bit trouble getting to 15, but overall it was a good game," Byrd said. "You have give credit to Pete Walker. He did a good job of mixing his pitches."
Cliff Politte pitched the eighth and Kelvim Escobar worked the ninth for his 25th save. Escobar escaped a first-and-second, no-out jam.
"It's always good to come back at home and win the first game, especially after that road trip," Escobar said.
Toronto's starting pitchers had allowed 26 earned runs over 27 innings during the team's losing streak.
Byrd pitched three perfect innings before Stewart led off the fourth with his seventh home run.
"I pitched him in before and I think he was ready for it," Byrd said. "That was pretty much the game."
After Toronto's Brian Lesher reached on Perez's throwing error in the sixth, Stewart hit into a force play. Eric Hinske followed with a single and Chris Woodward hit a sacrifice fly.
The Blue Jays won despite missing slugging first baseman Carlos Delgado (strained back muscle) and outfielder Jose Cruz Jr. (twisted left ankle).
Notes: Toronto CF Vernon Wells robbed Mike Sweeney of a hit with a diving catch in the first. ... Byrd has been sitting on 14 wins since a 4-1 victory over the Blue Jays on July 29. Byrd has gone 0-2 in four starts. ... Toronto has four shutouts this season. ... The game took only 2 hours, 23 minutes.
Copyright 2018 The Associated Press. All rights reserved. This material may not be published, broadcast, rewritten or redistributed. We strive to uphold our values for every story published.