Krakow, Poland — In a tearful, farewell Mass in his beloved Krakow, Pope John Paul II told more than 2 million Poles on Sunday that he would like to return one day but "this is entirely in God's hands."
The ailing, 82-year-old pope, brushing aside any notion he might step down while making his ninth papal trip to his homeland, grew weaker during the three-hour service until adoring throngs raised his spirits by chanting his name.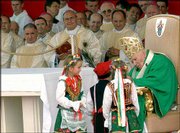 "God bless you," he said to applause from the vast throng filling the Blonia meadows. Then, choosing his words carefully, he said, "I would like to add 'until next time,' but this is entirely in God's hands."
The Polish pilgrimage has been both a trip down memory lane for the pope who visited his old house, the quarry where he labored during the Nazi occupation and his family's graves and an opportunity to underline Poland's deeply Catholic traditions as it moves to join heavily secular Western Europe.
Most of all it, the pilgrimage has emphasized Poland's extraordinary bond with its favorite son the first Polish pope, who successfully challenged communism.
"You are great. We love you. Stay with us," the crowd shouted.
"I say, you are telling me to desert Rome!" he responded with tears.
Many in the crowd, fearing it would be the pope's last visit, were teary-eyed, too.
Later, the pope, who suffers from Parkinson's disease, made a rare mention of his own mortality during an unscheduled stop at a church where he was pastor from 1948 to 1950.
"I ask for prayers for all the current parishioners at St. Florian, a prayer for the living and the dead, and a prayer for the pope during his lifetime and after his death," John Paul said.
The crowd was the biggest for a papal Mass since 4 million people attended a 1995 service in Manila, Philippines. Previous crowds in Poland have numbered around 1 million since John Paul began returning to Poland after assuming the papacy in 1978.
Copyright 2018 The Associated Press. All rights reserved. This material may not be published, broadcast, rewritten or redistributed. We strive to uphold our values for every story published.