St. Petersburg, Fla. — Tanyon Sturtze overcame one bad inning to earn a rare victory.
Sturtze snapped his nine-game winless streak, and Aubrey Huff homered and drove in three runs as the Tampa Bay Devil Rays beat the Kansas City Royals, 8-6, on Sunday.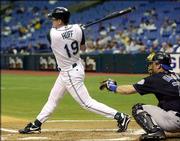 Sturtze (2-13) allowed four runs and five hits over seven innings for his first win since beating Toronto on June 26. The right-hander, who was 0-5 during the skid, struck out seven and walked five.
"I think we all needed it," Sturtze said.
Sturtze threw 42 pitches in the third. He struck out two, walked three and gave up four hits in the inning before retiring 12 of his final 13 batters.
"I don't think anything was wrong in the third," Sturtze said. "I just missed by a little bit on a few pitches. They were balls, and it was the walks that did me in that inning."
Wilson Alvarez fanned four in two innings of relief, allowing a two-run homer to Mike Sweeney in the ninth. Tampa Bay (41-82) won for just the fourth time in 13 games.
"The guys keep plugging away although things have been difficult," Devil Rays manager Hal McRae said.
Huff hit his team-leading 16th homer in the first and added a two-run single off reliever Ryan Bukvich for a 5-4 lead in the sixth. Huff went 3-for-5 and has 48 hits in his past 29 games.
Toby Hall hit an RBI double, and Brent Abernathy had a run-scoring single during a three-run seventh to put the Devil Rays ahead 8-4.
Jeff Suppan (8-13) lost his sixth straight start, allowing five runs and eight hits in 5 1-3 innings. The right-hander, who hasn't won since beating the Chicago White Sox on July 17, struck out five, walked four and had three wild pitches.
But manager Tony Pena is not considering dropping Suppan from the rotation.
When: 6:05 tonight.Where: Skydome.Television: Cable channel 51.Pitchers: Paul Byrd (14-8) vs. Pete Walker (5-3).KC record: 50-74.
"No. We're not thinking about that," Pena said. "We just need to let him go out and fight it. We wanted to win today so bad for him."
Suppan has given up 53 hits in his last 35 2-3 innings. He hasn't won a road game since beating Detroit on April 29, and is 1-10 with a 5.98 ERA away from Kauffman Stadium.
"It's been a battle," Suppan said. "I've had a lot of rough games. There's some positives out there, but I have to get it back to where I was before. Right now I'm doing a terrible job."
Tampa Bay shortstop Andy Sheets bruised his left shin in the ninth while chasing Carlos Beltran's bloop single to center. He collided with second baseman Abernathy and was helped from the field by two trainers. X-rays were negative.
"Nobody called for it," Abernathy said. "We were just trying to get the ball, trying to get that last out, trying to get that win."
Sweeney went 2-for-4 with three RBIs. He is hitting .355 and has homered in consecutive games.
Sweeney hit an RBI double during a four-run third that gave the Royals a 4-3 lead. Kit Pellow had a run-scoring single for his first major league hit before Luis Alicea and A.J. Hinch walked with the bases loaded on 3-2 pitches with two outs.
Huff put the Devil Rays up 1-0 with a first-inning homer. He has homered in two straight games.
Tampa Bay added two runs in the second. Steve Cox scored on Jason Conti's double-play grounder, and the Devil Rays went ahead 3-0 as Hall scored from third on Suppan's wild pitch.
Notes: Tampa Bay optioned RHP Jesus Colome to Triple-A Durham and called up RHP Lee Gardner from the Bulls. Huff has six homers this month, which ties him with Greg Vaughn (2000) for the most by a Tampa Bay player in August. Kansas City RF Aaron Guiel snapped an 0-for-15 slide with a third-inning single. Suppan has nine wild pitches this season. Tampa Bay 3B Jared Sandberg struck out in his first two at-bats to reach 100 for the season. He has fanned two or more times in 31 of his 71 starts. Suppan dropped to 0-4 career against Tampa Bay.
Copyright 2018 The Associated Press. All rights reserved. This material may not be published, broadcast, rewritten or redistributed. We strive to uphold our values for every story published.