Jerusalem — Israeli and Palestinian security officials reached agreement Sunday on a plan for Israeli troops to withdraw from parts of the Gaza Strip and from the town of Bethlehem, Israeli officials said.
The agreement was reached Sunday evening between Israeli Defense Minister Binyamin Ben-Eliezer and Palestinian Interior Minister Abdel Razak Yehiyeh, the Defense Ministry said in a statement. Israeli forces would withdraw on the condition "the Palestinian side takes responsibility to calm the security situation and reduce violence," the statement said.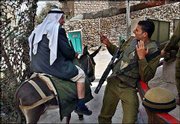 There was no immediate Palestinian comment, but the report was the first time in months that negotiations between the two sides have prospered. The pullout was to begin today.
Also Sunday, Israeli security forces arrested 16 suspected Palestinian militants who the army said were "suspected of terrorism."
Ben-Eliezer told a Cabinet meeting that the number of Palestinian attacks against Israelis had decreased in the past week. But he ascribed the drop to army operations and said there was no decline in Palestinian attempts to strike military and civilian targets.
The withdrawal plan is meant as a pilot scheme, whereby Palestinian forces would retake security control of areas vacated by the Israeli troops, and will work to prevent attacks on Israelis. If the attacks stop in areas where the Israelis withdraw, the plan will be gradually extended throughout areas that are supposed to be under the control of the Palestinian Authority.
Copyright 2018 The Associated Press. All rights reserved. This material may not be published, broadcast, rewritten or redistributed. We strive to uphold our values for every story published.