Minneapolis — A woman grabs a pen and a piece of paper and runs, squealing, to guitarist Bernard Allison as he leans against a downtown building for a photo shoot.
"You're a rapper, right?" she gushed to Allison, who was dressed in a satin baby-blue jogging suit and decked out in sunglasses, gold earrings and gold necklace.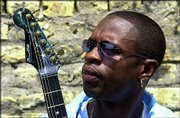 "We play all kinds of music blues, funk, soul," Allison told the woman, politely giving his autograph.
Satisfied, she left, but later returned, asking if he had a CD out.
He does.
"Storms of Life" is his eighth since 1990 and displays the same fiery guitar work that his father, the late Luther Allison, was known for.
Allison said his new album was a mixture of all his influences.
"There's something funky, there's something rocky, there's something soulful. And then there's just straight-ahead blues," he said during an interview at a coffeehouse.
Allison, 36, knows he'll always be compared to his father, who died in 1997 of lung cancer at 57. The youngest of nine children, Bernard Allison started playing guitar at 10, using his father's "Love Me Mama" album as a primer. Three days after graduating from high school, Bernard Allison was asked by singer Koko Taylor to be band leader of her Blues Machine.
Allison said his father tried to sway him away from playing the blues, but he eventually followed his father to Europe, where the veteran bluesman had found a new, appreciative audience while living outside Paris. Bernard Allison was his father's bandleader from 1989 until 1991 before going solo.
"I don't look at it as following in his footsteps," said Allison, who included two of his father's songs as well as a couple of his own on his new disc.
With his stage energy and stinging slide guitar, Luther Allison had attracted three decades of rock 'n' roll fans to the blues. But he moved to Paris in 1977 as disco gained popularity, resuming touring in the United States only a few years before his death. One of his favorite sayings, his son recalled, was "Leave your ego, play the music, love the people."
Bernard Allison said he always included two or three of his father's songs on his own albums. "I feel that he had so much music that was overlooked, especially the European releases," he said.
For "Storms of Life," Allison covered such songs as "I Wanna Drive You Home" from ZZ Top's Billy Gibbons, "Mean Town Blues" by Johnny Winter and "I Think I Love You Too Much" by Dire Straits' Mark Knopfler.
As his father did, Allison said he would listen to all kinds of music. And like his father, who lured rock fans to the blues, Allison doesn't restrict himself to traditional blues.
"I don't think anyone can record a 12-bar blues right now in this day and age and be successful with it, because everything's been done," Allison said. "Because what are you going to say? 'Well, my baby left me and I went to a liquor store and got drunk.' It's been done, for years."
Copyright 2018 The Associated Press. All rights reserved. This material may not be published, broadcast, rewritten or redistributed. We strive to uphold our values for every story published.