Like the postman's creed, the well-planned mailbox garden endures rain, snow, sleet, hail and dark of night. Season after season, it delivers its cheerful message through flowering perennials, flowing vines and colorful annuals.
Of course, plants that are tough enough to survive their curbside setting and your benign neglect are a must. They must be able to contend with exhaust fumes, heat from the driveway, road sand and salt splashed up during winter and the occasional trampling by the neighborhood dogs, children and bicycles.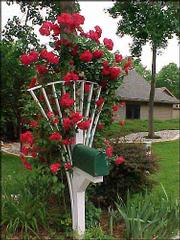 The good news is that mailbox gardens are usually small and can be fun to plan. Think of plantings that will provide year-round interest.
Blooms of Bressingham Perennials suggests bulbs to start off the season, clusters of yellow daffodils surrounded by grape hyacinths. Then, let Miss Amelia daylily hide the bulbs' fading foliage. Its creamy yellow blooms stand well above the handsome foliage.
Autumn Joy sedum continues the parade into fall with pink buds and cinnamon-colored blossoms in September. Leave the seed heads in place for late fall and winter beauty.
For partially shaded areas, plant hostas instead of daylilies. The leaves will hide the bulb foliage in late spring and provide interest until frost. Another suggestion is Heucherella Quicksilver, a tough but attractive plant that tolerates dry summer, partial shade and has clusters of white bell-shaped flowers held high above silver and bronze foliage. Pair it with Crane's Bill, a perennial geranium.
If you are looking for a tough alternative to the overused mailbox clematis, try clematis heracleifolia Alan Bloom. Unlike the familiar twining vines that sometimes collapse into a heaping pile, this plant has a self-supporting growth habit. Tubular blue flowers that bloom from midsummer to early fall cover the bushy green foliage. The plant likes full sun and is drought-resistant once established.
Whatever your planting choices, soil preparation is critical. Shape the bed and strip away the sod. Blooms of Bressingham Perennials recommends digging down at least a foot, mixing in compost and superphosphate (0-20-0). Work the superphosphate 8 inches deep, where it will remain in the plants' root zone. Next, spread a balanced 10-10-10 granular fertilizer lightly across the bed and mix it into the top few inches. If the bed is near the road, soil could contain excessive sodium from years of accumulated road salt. Add gypsum at the rate of 1 pound per 25 square feet, working it into the soil to help wash the sodium away.
Remember that whatever plants you select for your mailbox garden, they will need plenty of water and TLC for the first few months. Then, well, they are left to battle the rain, snow, sleet, hail and dark of night on their own.
---
Carol Boncella is education coordinator at Lawrence Memorial Hospital and home and garden writer for the Journal-World.
Copyright 2018 The Lawrence Journal-World. All rights reserved. This material may not be published, broadcast, rewritten or redistributed. We strive to uphold our values for every story published.