Novice fisherman Stephen Vinson nearly took an unexpected plunge earlier this summer into the Caribbean off the shores of Cancun.
"I caught an amberjack. It almost pulled me in the water," said Vinson, a freshman who is walking on to the Kansas University basketball team. He called hooking the fish the high-water mark of his summer vacation.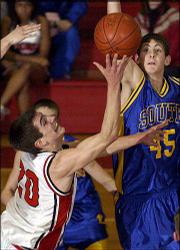 "The (boat) driver ate it," Vinson added with a laugh, noting he had no trophy to mount on the wall of his Jayhawker Towers apartment to prove he's not a member of the Fisherman Liar's Club.
A week in Mexico with his girlfriend and her family in early June was a relaxing start to what turned out to be a grueling summer for the former Lawrence High standout.
"Once I got back, I started to work to get ready for the season," Vinson said. The 6-foot-2, 185-pounder played basketball at least twice a day and ran the court as a ref for 3-on-3 Holcom Recreation basketball.
Most days began with an early wake-up call.
"The best thing I did all summer was work out in the mornings with Danny Manning," Vinson said, referring to the NBA veteran and former KU All-American.
Other ex-Jayhawks
Manning invited players from his Kansas City summer league team to join former and current Jayhawks at East Lawrence Center daily.
"We'd do shooting drills and play against each other 5-on-5 with some halfcourt stuff," Vinson said of the group that included former KU players Steve Woodberry, Rex Walters, Jacque Vaughn and Billy Thomas.
"Rex helped me a lot. I was on his team almost every game. He helped ease me into learning some of the situations that will be different for me in college. Rex was outspoken with me. He's a smart guy. Anybody my size that can get in the NBA I'd listen to."
Vaughn, a 6-foot point guard with the Orlando Magic, also tutored Vinson.
"Jacque taught me a lot about defense, and a lot about changing speeds," Vinson said. "It's not about being full-speed all the time. It's about changing speeds and direction and spacing, knowing when to drive and when to shoot."
Vinson took what he learned in the mornings into evening pick-up games with current members of KU's team.
He said the summer pick-up action was fun because it was competitive.
"The great thing I'm learning is everyone wants to win every game everyone wants to stay on the court every time," Vinson said. "I had to figure out where I fit in, figure things I could do to help my team win, things I could do in high school that I can't do now in college."
'Playing hard'
Vinson, second leading scorer in LHS history with 813 points and No. 2 three-point shooting leader, has been compared to former KU walk-on Brett Ballard, a deadly three-point bomber. Vinson hit several threes for the championship team at the 2002 Sunflower State Games in Topeka.
"I think if I am going to be successful in my style of play it'd definitely be diving on the floor like Jerod Haase," Vinson said of the former Jayhawk and current KU aide. "I like to shoot it as well. I have more a point guard mentality as far as controlling the ball, tempo, pushing the ball like Hinrich. I like playing hard."
Vinson's hard-nosed style of play earned him first-team and Sunflower League player of the year honors last season.
He received recruiting interest from schools like UMKC, Baylor and smaller schools in the East. He earned MVP honors at the Five-Star camp in Pennsylvania the summer after his junior year at LHS.
Even Kansas State jumped into the picture late, a day after Vinson decided to accept a walk-on slot at KU, a team he has followed since moving to Lawrence from Atlanta seven years ago.
Playing once at Free State High, he was being watched by a K-State coach and a KU coach at the same time.
Mind was made up
"Those two coaches came to see some of the other guys," Vinson recalled. "A guy came and talked to me afterward and wanted to know why I was walking on at KU, and if I'd be interested in K-State because they had a scholarship. I pretty much said my mind was made up.
"I let the word out I was going to KU. If I say something that's pretty much it."
If he hadn't landed at KU, Vinson said, he didn't know where he might have gone to school.
"I didn't really get involved in the recruiting (process) because I knew what I wanted to do," he said. "I never really pictured myself any other place," Vinson said.
Now he's getting ready to move into his new apartment, wondering who his roomie will be.
"They have an even number of players, so I live with a football player," Vinson said. "It gets interesting from here. They told me I'd be living with a freshman walk-on, Gabe Rosalis. I have a media guide. I checked the roster. He's a fifth-year senior who is 6-4, 300 pounds, starting offensive tackle.
"I don't know if they're messing with me. I guess I'll have someone to protect me," Vinson added with a laugh. "I know you are not supposed to get excited for school, but when basketball comes around you get excited. I am anxious to start."
Copyright 2018 The Lawrence Journal-World. All rights reserved. This material may not be published, broadcast, rewritten or redistributed. We strive to uphold our values for every story published.