Dave Blaney's doesn't make excuses. The former World of Outlaws sprint car champion doesn't hold much stock in blaming others for what happens to him on the racetrack.
Instead, Blaney, 39, would rather get on with the job at hand, as he has done in the No. 77 Jasper Engines Ford this season.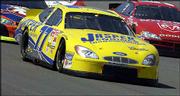 Blaney heads into this weekend's Pepsi 400 in Brooklyn, Mich., ranked 20th in the Winston Cup points standings.
"I've always been happy just racing a car,'' said Blaney, who finished 18th in the Sirius Satellite Radio at the Glen last Sunday. "Finger-pointing and the other stuff is kind of foolish. I can do without it.''
Blaney's low-key, no-nonsense approach to driving is refreshing in a series where some competitors spend more time arguing with each other than they do racing.
Although he has only two top-10 finishes this year, Blaney has shown flashes of brilliance and plenty of determination in his third full season in the Winston Cup circuit.
In fact, on the 2.45-mile road course at Watkins Glen last Sunday, Blaney toughed out a difficult situation when other drivers might have parked it.
Just nine laps into the 90-lap event, Blaney's shifter snapped. For the remainder of the race, he was forced to change gears with what little remained of the stick and the palm of his hand.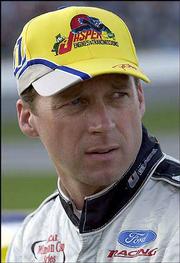 At the end of the day, the fleshy part of Blaney's right hand was swollen and badly bruised.
"We missed quite a few shifts,'' Blaney said. "The hand is a little sore, but that's OK.''
Blaney, who had qualified 20th for the race, was happy to finish Sunday with points.
"The car got a little tighter after the second set of tires,'' Blaney said. "We lost a few places in the last 10 to 12 laps. But overall, I enjoyed the racing.''
Blaney, who was named Sprint Car Driver of the Year in 1995, is likely to enjoy the high-speed, two-mile oval at Michigan International Speedway.
In last June's race at the track, Blaney finished 13th after running with the leaders most of the race. With cars going three and four wide on a late restart, Blaney got caught out of the draft and dropped six places in a wild three-lap dash to the line.
"For sure, I'm excited about Michigan this weekend,'' Blaney said. "We are taking the same car we ran in June. We ran pretty competitive there all day. I think we can do better this time.''
For a driver who made his name on dirt, Blaney is comfortable running the big Winston Cup cars on superspeedways such as MIS.
"I like Michigan, it's a great racetrack,'' Blaney said. "The best handling car will win every time there. Our engine is awesome and if we can get good track position and run green, we'll be in good shape.''
Blaney, looking for his first Winston Cup victory, will give it his best shot on Sunday.
"Our goal at the start of the year was to finish top 15 in championship points,'' Blaney said. "We'd like to run well Sunday and take a step up.
"We go into every race wanting to finish in the top 10. I don't see why we can't finish in the top five at Michigan.''
As usual, Blaney will let his car do the talking this weekend. That's exactly what he did in his stellar sprint car career.
"You had to run hard every corner in sprint cars,'' said Blaney, winner of two King's Royal races at Eldora Speedway in Ohio and the 1997 Knoxville (Tenn.) Nationals.
"The more aggressive you were, the better your chances of winning.
"On the other hand, driving a Winston Cup car, you've got to think more about getting the car set up right. That's my day job now, and I've got to get a lot better at it.''
After a couple of seasons with Bill Davis Racing in Winston Cup, Blaney is finding his feet at Jasper Motorsports in 2002.
Whether he can win at Michigan this Sunday, or any time this year, is debatable. But after any race, Blaney won't be searching for a fall guy.
Copyright 2018 The Lawrence Journal-World. All rights reserved. This material may not be published, broadcast, rewritten or redistributed. We strive to uphold our values for every story published.