OAKLAND, CALIF. — Billy Koch needed just 12 pitches to redeem himself after a shaky outing.
Koch pitched a perfect ninth inning to reach 30 saves for the fourth straight season as Oakland defeated Toronto, 4-2, Wednesday.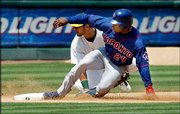 Eric Chavez hit a three-run homer, and Jermaine Dye also drove in a run for the A's, who have won two straight after losing their last five to the Blue Jays. The A's have won 10 of 15.
Shannon Stewart homered for the Blue Jays, who have lost six of eight.
Koch, whom the A's acquired from Toronto during the offseason, walked the first two batters he faced and allowed a run on Tuesday before nailing down his 29th save.
"Any 1-2-3 outing feels great," Koch said. "Pitching effectively, that's the biggest thing."
Tim Hudson (9-9) won his second straight decision and evened his record for the first time since he was 3-3 on May 4. He gave up two runs one earned and seven hits in 7 1â3 innings.
Pete Walker (5-3) allowed four runs, four hits and four walks in six innings but didn't give up a hit after Miguel Tejada's single in the third. Walker retired 12 of his final 14 batters.
"I just keep throwing too many pitches," Walker said. "When I find my stuff it's always too late. Chavez won the game for them in the first inning."
Indians 6, Devil Rays 4
St. Petersburg, Fla. Jim Thome hit a two-run homer, and Karim Garcia added a three-run double as Cleveland beat Tampa Bay.
Ellis Burks got his 2,000th career hit and also had an RBI single in the fifth inning that put the Indians up 3-2. Thome hit his 36th homer in the third.
Cleveland starter Danys Baez (9-9) gave up two runs and seven hits in five innings. Terry Mulholland pitched three-plus innings, and Mark Wohlers got three outs for his sixth save.
Paul Wilson (5-8) failed to win his fourth consecutive start. He allowed four runs and nine hits in 7 1â3 innings. The Devil Rays are winless in a franchise-record 13 straight series (0-10-3).
Rangers 11, White Sox 6
Arlington, Texas Rafael Palmeiro hit a three-run homer, and Herbert Perry added a two-run shot to back Ismael Valdes as Texas beat Chicago. Palmeiro went 3-for-5, Perry matched a career high with four RBIs and Alex Rodriguez had an RBI to give him 100 for the fifth consecutive season. Kevin Mench went 2-for-2 with three walks for Texas.
Red Sox 12, Mariners 5
Seattle Trot Nixon homered twice as Boston turned a pitching matchup between Derek Lowe and Jamie Moyer into a slugfest. Manny Ramirez and Shea Hillenbrand also went deep for the Red Sox.
Orioles 6, Twins 5 14 innings
Minneapolis Geronimo Gil homered off Tony Fiore (9-3) with two outs in the 14th inning to lift Baltimore. Melvin Mora singled, doubled and tripled for the Orioles, who improved to 8-2 in extra-inning games. Rick Bauer (6-4) pitched four innings of scoreless relief, retiring Torii Hunter on a grounder with a runner at third to end it after 4 hours, 33 minutes. Jacque Jones had three hits and scored three runs for the Twins.
Angels 5, Tigers 4
Anaheim, Calif. Anaheim rallied behind Scott Spiezio's three RBIs and a tiebreaking RBI double by pinch-hitter Darin Erstad.
Bobby Higginson and Shane Halter homered for Detroit, and Brandon Inge hit an RBI double to stake Mike Maroth to a 3-0 lead through 3 1â2 innings.
Anaheim played the game under protest because Detroit batted out of order in the second and third innings. The protest became moot when the Angels scored four runs in the sixth to take the lead.
Late Tuesday game
Angels 7, Tigers 6
Anaheim, Calif. Troy Glaus singled home the winning run in the 12th inning as the Angels won their fourth consecutive game.
Copyright 2018 The Associated Press. All rights reserved. This material may not be published, broadcast, rewritten or redistributed. We strive to uphold our values for every story published.