Atlanta — Tom Glavine took care of the first seven innings. Then it came down to a classic matchup: Barry Bonds vs. John Smoltz.
Bonds flied out to the warning track in the ninth against Smoltz, and Atlanta held on to a 1-0 victory against San Francisco on Wednesday night.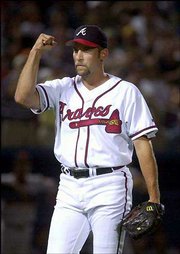 Glavine won for the fifth time in six starts, but everyone was talking about the matchup between baseball's reigning home run king and one of the game's dominating closers.
"That's what the fans came to see, power vs. power," said Gary Sheffield, who drove in the only run with a first-inning single. "It was a win-loss situation. Barry put good wood on it, but it stayed in the park. We won that one tonight."
Even after Jeff Kent flied out to the warning track in right-center, Smoltz didn't back down from Bonds. The Braves closer came in with a 97 mph fastball on a 3-2 pitch and watched a liner head toward the deepest part of Turner Field. Andruw Jones made the catch in front of the 400-foot sign.
Smoltz got Benito Santiago on a popup to end the game, earning his major league-leading 42nd save in 46 chances.
"I was definitely going to challenge Bonds," Smoltz said. "Obviously, you want to keep it in the park. That was a little close."
Braves manager Bobby Cox, who never criticizes his players publicly, was clearly taken aback by Smoltz's pitch selection with a full count on Bonds.
"He almost hit it out," Cox said, managing a nervous grin. "That's all I'll say."
Bonds went 1-of-4 with an infield single. He has gone four games without a homer since becoming the fourth player to hit 600 in a career.
Afterward, he refused to talk with reporters.
Glavine (16-6) gave up just five hits for his 240th win, tying him with Frank Tanana and Clark Griffith for 48th on the career list. The left-hander has allowed two earned runs or less in 19 of 27 starts this season, bouncing back from a brief slump in early July when he was bothered by a blister.
Astros 4, Cubs 3
Chicago Craig Biggio hit a solo homer and Wade Miller won his career-best seventh straight decision as Houston beat Chicago.
Sammy Sosa hit a two-run single with two outs in the eighth, and pinch-hitter Angel Echevarria drove in another run off of rookie Ricky Stone in the ninth.
But Stone, in his first major league save opportunity, struck out Mark Bellhorn to preserve the victory.
Miller (10-3) allowed two runs and five hits in 7 2â3 innings, striking out six and walking four. He hasn't lost since June 26.
Carlos Zambrano (2-4) took the loss.
Marlins 1, Rockies 0
Miami Brad Penny pitched eight scoreless innings and Juan Encarnacion drove in the winning run in the ninth to give Florida the victory.
Penny and Denny Neagle were locked in a pitchers' duel, with Neagle not allowing a hit until Luis Castillo's one-out single in the sixth. The game remained scoreless until the ninth inning when the Marlins loaded the bases with one out against Victor Santos (0-2). Encarnacion hit a grounder to shortstop Juan Uribe, who bobbled the ball, and could only get the out at first base as the winning run scored.
Graeme Lloyd (3-3) pitched a perfect ninth to get the win for the Marlins.
Dodgers 5, Expos 2
Montreal Shawn Green hit his 35th homer and Kazuhisa Ishii earned his first win since July 14 to lead Los Angeles. Green, second in the NL in homers to Chicago's Sammy Sosa, broke a 2-2 tie with a one-out solo shot off Bartolo Colon (5-2) in the third. Ishii (13-7) allowed three hits in six-plus innings for just his second win since the All-Star break. Montreal native Eric Gagne got three outs for his 40th save.
Phillies 4, Brewers 1
Philadelphia Rookie Brett Myers took a shutout into the ninth before settling for his first career complete game. Myers (2-2) allowed two-out singles to Jeffrey Hammonds and Richie Sexson in the third inning, a leadoff single to Jose Hernandez in the seventh and a solo homer to Sexson with one out in the ninth. Marlon Anderson homered, and Pat Burrell drove in his 89th run for the Phillies, who won their third straight game. Jamey Wright (4-12) allowed four runs in seven innings for Milwaukee.
Padres 6, Mets 2
New York Brian Lawrence pitched into the eighth and Bubba Trammell and Ron Gant homered as San Diego handed New York its 10th loss in 13 games. Lawrence (11-6) has won four of his last five decisions. He gave up one earned run on seven hits in seven-plus innings. Trevor Hoffman got two outs for his 30th save.
Cardinals 7, Pirates 3
Pittsburgh Edgar Renteria homered off Kip Wells (11-10) and drove in three runs as St. Louis won its fifth straight. Albert Pujols hit his 27th home run for the Cardinals, who had 11 hits. St. Louis maintained its three-game lead over Houston in the NL Central.
Diamondbacks 7, Reds 2
Cincinnati Tony Womack hit's two-run double in the sixth off John Riedling (1-2) snapped a 2-all tie and sent Arizona to its 18th victory in 22 games. Steve Finley added a two-run homer off Riedling.
Copyright 2018 The Associated Press. All rights reserved. This material may not be published, broadcast, rewritten or redistributed. We strive to uphold our values for every story published.