Branson, Mo. — Deb Bruggeman and Robin Mitra visited the self-proclaimed "live entertainment capital of the world" and didn't see a single show.
The two friends spent their weekend away from Branson's traffic-clogged strip and the likes of indoor crooners Andy Williams and Bobby Vinton, instead enjoying the pristine lakes and lush Ozarks mountains that surround the southwest Missouri resort town.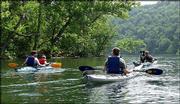 "I would rather be doing something outdoors," said Bruggeman, who lives along with Mitra in suburban St. Louis. "We're both very active and enjoy new adventures."
They're just the type of visitors that Ty Lewis is counting on to make his adventure company, Down Hill Bikes and Trek The Ozarks, successful.
Lewis opened in 1996 and has already created a niche market that lets visitors experience the tranquil, yet outdoor, side of Branson by way of guided kayak, canoe and bicycle.
"What initially attracted people here was the lakes and streams to me, they're still the main attraction in Branson," Lewis said.
Branson's first draw
Indeed, the area was a haven for anglers interested in trout from Lake Taneycomo and big mouth bass from Table Rock Lake long before theaters began popping up in the 1990s along Missouri 76.
"The Ozark Mountains are one of the best-kept secrets in the country," Lewis said. "The theaters are sort of 'the goose that laid the golden egg,' but there's so much here beyond that."
Lewis' Trek The Ozarks caters to beginners, although trips can be arranged for more experienced enthusiasts.
"You don't have to be an athlete to enjoy kayaking," Lewis said. "Most of the people who come to us just want to get out and have fun."
On this day, Lewis and assistant Eric Davis are guiding six kayakers on an 8-mile trip on Lake Taneycomo.
The group which includes Bruggeman and Mitra gathers at the business on Missouri 76 at 8:15 a.m. Each person pays a $68 fee which includes a bottle of water and light snack and signs a waiver form before boarding the van that delivers them to the waterfront in downtown Branson.
The brightly burning sun is forcing the mist off the 50-degree water as the group gets a quick lesson on safety and paddling. Lewis uses "touring kayaks" that are longer and more stable than whitewater boats. Foot peddles control the rudder and double-bladed paddles provide the push.
There are no rapids on Taneycomo, which is part of the White River, although there is enough current to gently propel the kayaks along.
The group glides along the shore as Lewis and Davis point out broad-winged blue herons circling above and native fish swimming in the crystal water.
The wake left by a few motorboats causes some initial anxiousness but none of the paddlers is forced to test a life jacket. Anglers working the water from parked boats offer friendly waves.
The group arrives four hours later at the pickup point at Rockaway Beach.
"The big thing is getting over the fear that you're going to fall over," said Mitra, who is on her second trip with Lewis. "It's really a lot of fun."
Brian and Victoria Willard agree. They traveled with their 8-year-old son, Tyler, from West Chester, Pa., for a week at a Branson time share.
"We try to plan a mix of things," Brian Willard said. "We really like the outdoors. We didn't know what to expect really, but it's beautiful here."
New marketing campaign
That's exactly the message Branson/Lakes Area Chamber of Commerce hopes to deliver.
It's not that officials aren't grateful for the 7 million yearly tourists that fill the 60,000 theater seats more than New York's famous Broadway to be entertained by Williams and others.
But historically, most of those visitors are retirees in the 50-70 age group. Branson needs to strengthen its appeal among those age 25 to 50 if it's going to continue thriving, Chamber spokeswoman Claudia Vecchio said.
One way to do that is to draw on two jewels of the Ozarks: Lake Taneycomo and Table Rock Lake. There are also more than 200 miles of hiking trails, as well as caves, dense forests and grassy meadows to be explored.
"We've really got a great combination of neon and nature," Vecchio said. "Whether you're coming to see a show or enjoy the outdoors it's all here."
The chamber has begun marketing to nature lovers with new TV commercials featuring fishing, swimming and hiking. Officials also have put together a pamphlet on area parks and trails.
"We're still talking shows, but the outdoor recreation is definitely getting a bigger piece of the pie," Vecchio said.
Lewis is convinced it's the way to draw the younger set to Branson.
"Branson definitely has the stigma of being a vacation place for seniors," he said. "When people get out and see the lakes, go kayaking or mountain biking, they're hooked."
Copyright 2017 The Associated Press. All rights reserved. This material may not be published, broadcast, rewritten or redistributed. We strive to uphold our values for every story published.