By mid-morning Saturday, Dave Murphy was getting angry.
He was surrounded by tons of contaminated soil atop a North Lawrence boat ramp, and the rain that could wash it over the bank or down the ramp into the Kaw River was starting to fall.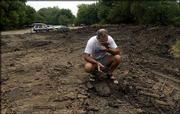 But despite making repeated pleas to state officials since Friday, it appeared the illegally dumped soil contaminated with gasoline and diesel fuel at the city's fuel depot was not going to be cleaned up.
"I was trying not to get this in front of the public because generally the city of Lawrence is (environmentally) responsible," an exasperated Murphy, Friends of the Kaw riverkeeper, told the Journal-World. "But I just couldn't sit by and wait for the good-old-boy network to run its course until everything's contaminated."
Contacted Saturday morning by the Journal-World, officials said the city's dumping of the stinking, contaminated soil below the Kaw River levee just west of the Oak Street boat ramp was an oversight.
By early Saturday afternoon, city crews had begun moving an estimated 15 dump truck loads of the soil from where it had been spread Friday. City Manager Mike Wildgen said it was being hauled to a city-owned site near 21st Street and Wakarusa Drive. He hadn't learned of the situation until Saturday afternoon, he said.
Daniel Kellerman, district geologist with the Kansas Department of Health and Environment, called the dumping an oversight, but said it was a violation of state law.
It happened while the city was excavating underground fuel storage tanks from its Public Works fueling station at 11th Street and Haskell Avenue. According to Kellerman, who was supervising the operation, city workers thought the soil was clean because it was taken from an excavation for the new tanks, separate from where the old tanks were being removed. City workers and Kellerman didn't realize contamination had spread so far.
"When you work around these sites, your nose becomes desensitized a little bit," he said. "If they'd been aware it had an odor like that, they would have handled it differently."
Murphy said he was notified of dumping by a Lawrence resident who saw city crews hauling it Friday.
"He told me he got behind a truck and it was so bad it made his eyes water," Murphy said. After seeing where the soil was being dumped, the concerned resident found the telephone number for Friends of the Kaw and got in touch with Murphy. He started making inquiries.
After hearing from Murphy on Friday, Kellerman said, he conducted tests on the dumped soil and found petroleum concentrations of less than 100 parts per million, a level he said was used to guide how contaminated soil should be handled.
But soil with any amount of petroleum contamination is designated "special waste," and requires special handling, he said.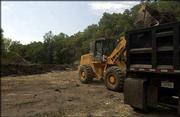 "So this would be in violation of disposing of a special waste," Kellerman said. Though fines are possible, he said the state preferred to work with violators to get such soil picked up and moved to a proper disposal location.
But despite determining Friday the contamination was "an issue," Kellerman decided it was not an emergency and planned to have the soil moved Monday.
That wasn't good enough for Murphy, whose job is safeguarding the river. When he checked on it Saturday, he found the petroleum-smelling soil spread over a broad area. The contamination was obvious to several visitors' noses even after a mid-morning rain shower.
Murphy said he could understand a mistake, but that it should be corrected.
He got angry after being unable to get KDHE or Lawrence Police to do anything about the illegal dumping.
"The point is, nothing would have been done here unless I pushed it," he said after city crews started working about 1:30 p.m. "It just pisses me off because I'm trying to cooperate."
Murphy is calling for a city investigation into why the Police Department wouldn't investigate a report of a law being broken. He also wants KDHE to investigate why, when Kellerman acknowledged Friday there was a problem, nothing was done.
"Maybe you have to make a big deal out of it to make sure it doesn't happen again," Murphy said. "It shouldn't be so hard to get people to do what they're supposed to do, and what they're being paid to do."
As for Lawrence Police, Wildgen said the force was charged with enforcing city ordinances and state statutes, not state environmental law.
Copyright 2018 The Lawrence Journal-World. All rights reserved. This material may not be published, broadcast, rewritten or redistributed. We strive to uphold our values for every story published.