New York — Denim has become its own fashion category.
Just as every wardrobe needs casual clothes and dress-up clothes, denim clothes and not just jeans are now on the list of must-have items.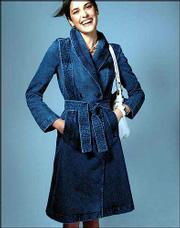 "To call jeans or denim a trend at this point sounds ludicrous. It's gone way beyond that," says Cyndi Leive, Glamour magazine's editor in chief. "Denim is a fashion fact. Most people own a pair of jeans or 12."
Denim has been the "it" fashion look for several seasons and this fall won't break the cycle. It was all over the designer runways in seasonal previews and mass-market stores are gearing up for major fall campaigns.
"It's the holy fabric," says Marvin Scott Jarrett, editor in chief of both "Genius," a limited-edition book about all things denim, and of Nylon, a cutting-edge fashion magazine.
Jarrett's own daily "uniform" is Wrangler jeans, a black T-shirt, $5 flip-flops and a Gucci belt but if he puts on a button-down white shirt and black shoes, he is "dressed up." Between the two looks, especially if he adds a jacket to the second outfit, he is dressed appropriately for almost anything, he says.
He notes that people will now pay $100-$200 for jeans as investment pieces.
In fact, the only thing "trendy" about jeans now is to offer options.
Gap's fall collection is rooted in denim in 16 different washes ranging from formal black to super-casual sandblasted. There are almost a dozen styles of denim pants and almost as many skirts.
"Denim is the foundation for us and we're getting back to the roots of the business," says company spokeswoman Rachel DiCarlo.
The timing doesn't hurt: People are wearing more polished looking denim to work and women are even wearing denim skirts to cocktail parties paired with beaded tops.
Leive's top denim picks for fall include fitted denim jackets, denim blazers and slim pencil-cut denim skirts, which she says are the best bet for the office. Pair this skirt with a non-denim jacket and heels for a fashion-forward look, she suggests.
Leive also likes the chino-style denim trousers, which should be worn longer than casual jeans, and shift dresses.
For the most part, she advises steering clear of the "denim tuxedo suit" or head-to-toe denim, but some tailored suits are acceptable if they are in dark or colored denim.
The only "denim don'ts," according to Leive, are the very baggy, hip-hop styles or oversized jackets because they are dated looks.
Low-rise jeans probably already peaked but they're still popular. These pants are more casual than higher-waisted jeans and, at the very least, if someone is going to wear low-risers to work, give them the "sit test" to make sure that when the wearer sits down her pants still cover her undergarments, Leive says.
Copyright 2018 The Associated Press. All rights reserved. This material may not be published, broadcast, rewritten or redistributed. We strive to uphold our values for every story published.