So, your English professor has just assigned a 12-page paper on symbolism in Kate Chopin's "The Awakening." Ugh that means a trip to the library.
For the first time, you scale the stone steps leading to Watson Library's massive front doors. You step inside the four-story gothic building and freeze.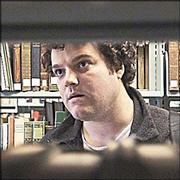 With 1.4 million volumes at your fingertips, where do you begin?
You find a librarian, says Stella Bentley, Kansas University's new dean of libraries.
"I encourage students to not be hesitant about approaching the people who work in the library. We really are here to help them with their information needs," she said. "I know it can be intimidating to come into libraries the size of the libraries we have here at KU if you've never been in a research library before."
But Bentley, who just began her tenure in April, is hoping new students will take advantage of the libraries a "tremendous resource" while they're at KU.
What's new?
Several services that were recently introduced or will be making their debut this academic year should make using KU's libraries a little easier, Bentley said.
For example, by the time school starts, a fleet of laptop computers purchased by funds donated by parents of KU students will be available to check out and can be taken anywhere inside Watson, Anschutz and Spencer Research libraries to access the libraries Web site or anything else online through a wireless network.
In a few of the libraries, an electronic reserve system should be operational by fall, Bentley said. It will enable professors to make articles, notes or old quizzes available to students online.
Ask a Librarian, a relatively new service already in place on the libraries' Web site, allows library patrons to e-mail a reference librarian with questions and receive an answer, ideally, within 24 hours, said Bill Meyers, external relations officer for the libraries.
Another perk, available only at Anschutz Library, is 24-hour accessibility on most days of the week.
Here's a brief look at KU's libraries. For more detail, visit the libraries Web site at www.lib.ku.edu.
Watson Library
The largest and oldest of the campus libraries, Watson houses most of the circulating volumes that relate to humanities, social sciences and the professional fields of business, education, journalism and social welfare.
It's also home to three large area-studies collections:
l The East Asian Library. Located on the fifth floor, this collection has more than 167,000 volumes in the Japanese, Korean and Chinese languages. Strongly represented in the collection are books covering East Asian literature and art history.
l The Slavic Collection. This portion of the library has been actively developed since the early years of the Cold War and now holds more than 300,000 monographs and more than 3,000 periodical titles. The collection is strongest in Russian, Polish, Serbian, Croatian and Ukrainian language volumes of this century, although there are substantial holdings of 19th century material.
l The Iberian and Latin American Collection. With more than 400,000 volumes relating to Spain, Portugal and Latin America, this collection is one of the largest of its kind in the United States.
Anschutz Library
Anschutz Library has about 425,000 volumes and 3,500 periodicals in the fields of astronomy, math, medical research, chemistry, computer science, physics, pharmacy and the history of science.
Spahr Engineering Library
Spahr Engineering Library, connected to the second floor of Learned Hall, contains about 70,000 books and serials and more than 350,000 microfiche items relating to engineering.
Thomas R. Smith
Map Collection
Thomas R. Smith Map Collection. On the first floor of Anschutz Library, it is among the largest academic map collections in the United States with more than 300,000, including topographic and thematic maps of all areas of the globe, both historic and current.
Government
Documents Library
Located on the sixth floor of Malott Hall, Room 6001, this library has been an official U.S. Government depository since 1869 and the regional depository for the state of Kansas since 1976. It receives and catalogs all publications distributed by the U.S government for its Federal Depository Library program.
Thomas Gorton
Music Library
Located on the upper level of the south addition to Murphy Hall, Room 240, this library contains more than 111,000 scores, books, sound recordings, videos, microforms and serials, and holds the leading music collection in the Great Plains region. It opened in June 2000, integrating music and dance materials from the former Thomas Gorton Music Library, Anschutz Library and Watson Library.
Murphy Art and Architecture Library
This collection, on the first floor of the Helen Foresman Spencer Museum, is one of the largest of its kind in the Midwest. It has more than 122,0000 volumes and 600 periodical subscriptions dealing with art, architecture, studio art, and design. The portion of the collection dealing with Japanese and Chinese art is particularly strong.
Law Library
In 200 Green Hall, this collection is managed separately from the other libraries, but is open to anyone. Most items cannot be checked out.
Regents Center Library
This library is on the Edwards Campus at 127th and Quivira in Overland Park. It primarily serves nontraditional students with its 15,000 volumes and 300 journals. This library is electronically networked with the main campus.
Kenneth Spencer
Research Library
This collection houses material of a historical nature that requires special preservation. All items within it must be used on the premises.
Kept here are the department of special collections, which has books and manuscripts dealing with the history of science, especially ornithology, Linnaeus classifications and medicinal botany. It also has a broad range of rare items dealing with medieval and Renaissance Europe, English history, Irish culture, maps of the 16th through 18th centuries, contemporary poetry and Latin American history.
The research library also houses the Kansas Collection, which specializes in the history and culture of Kansas and the Great Plains. Besides books, maps, diaries, letters and business records, it also has photos, architectural drawings, tape recordings, magazines and newspapers.
The research library also is home to the university archives, which includes one of the nation's foremost collections of sports autographs.
Copyright 2018 The Lawrence Journal-World. All rights reserved. This material may not be published, broadcast, rewritten or redistributed. We strive to uphold our values for every story published.